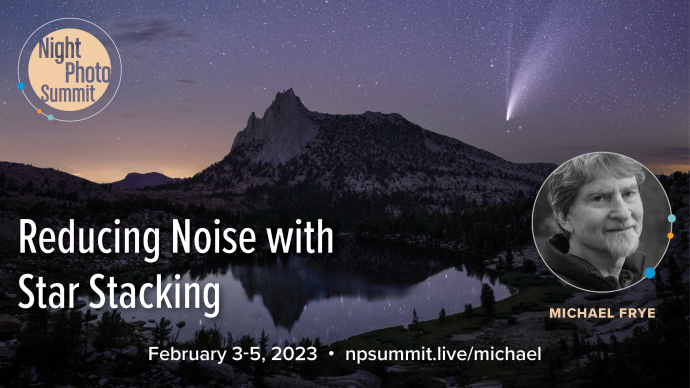 I'm happy to be joining the National Parks at Night team for the third annual Night Photo Summit next month!
This will be my third time presenting at the Night Photo Summit, and the previous two have been really fun, so I'm excited to be invited back! This online conference is devoted exclusively to night photography, and I'll be joining over 35 other distinguished instructors, including Albert Dros, Elia Locardi, Royce Bair, Rachel Jones Ross, Katrina Brown, Lance Keimig, Tim Cooper, Susan Magnano, Chris Nicholson, Kevin Adams, and many more.
I'll be presenting Reducing Noise With Star-Stacking. Star-stacking is one of the best ways to reduce noise in nighttime photographs. By blending multiple frames together you can average out random noise to create cleaner, sharper images – yet still make the stars points of light, rather than streaks. I'll be covering the whole process from start to finish, from capturing the images in the field to blending them together later. And more importantly, you'll learn how this technique can open up new creative avenues for nighttime photographs that wouldn't be possible with single exposures.
The dates for the Summit are February 3rd through 5th. All the sessions will be recorded, so if you miss something you can always watch it later.
This promises to be a great learning experience, and a lot of fun, so I hope you'll join us! You can learn more and sign up here:
Night Photo Summit, February 3-5, 2023
— Michael Frye
Related Posts: Join Me Again at the Night Photo Summit!; Join Me at the Night Photo Summit!