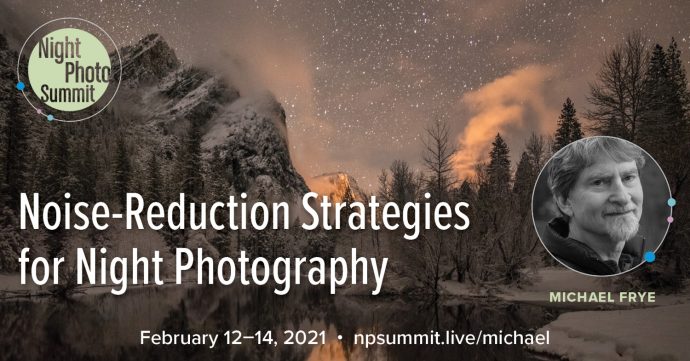 I'm pleased to announce that I'll be teaching at the first ever Night Photo Summit next month!
The folks who created the National Parks at Night workshop series just announced this new online photo conference, focused exclusively on night photography. I'll be joining 27 other distinguished instructors, including Lance Keimig, Tim Cooper, Adam Woodworth, Jess Santos, Chris Nicholson, Rachel Jones Ross, Troy Paiva, and many more.
I'll be teaching a session called Noise-Reduction Strategies for Night Photography. In this session we'll delve into the different kinds of noise and the factors that exacerbate them. Then we'll use that knowledge to develop strategies for reducing noise: choosing the optimal camera settings, bracketing, blending, star-stacking, star-tracking, stitching capturing dark frames, and more. And we'll explore tools and techniques for reducing noise later in software, with single exposures, or by blending frames with Photoshop, Starry Landscape Stacker, and Sequator.
And I'm looking forward to seeing all the other presentations, like the legendary Troy Paiva talking about his "Lost America" style, Chasing Moonlight by Susan Magnano, a session on photographing rocket launches by Erik Kuna, light-painting sessions with Chris Nicholson and Tim Cooper, Milky Way Panoramas with Adam Woodworth… and many more.
The dates for the Summit are February 12th to 14th. All the sessions will be recorded, so if you miss something you can always watch it later.
This promises to be a great learning experience, and a lot of fun, so I hope you'll join us! You can learn more and sign up here:
Night Photo Summit, February 12-14, 2021
— Michael Frye
Related Posts: Comet Fever; Death Valley after Dark
Michael Frye is a professional photographer specializing in landscapes and nature. He is the author or principal photographer of The Photographer's Guide to Yosemite, Yosemite Meditations, Yosemite Meditations for Women, Yosemite Meditations for Adventurers, and Digital Landscape Photography: In the Footsteps of Ansel Adams and the Great Masters. He has also written three eBooks: Light & Land: Landscapes in the Digital Darkroom, Exposure for Outdoor Photography, and Landscapes in Lightroom: The Essential Step-by-Step Guide. Michael has written numerous magazine articles on the art and technique of photography, and his images have been published in over thirty countries around the world. Michael has lived either in or near Yosemite National Park since 1983, currently residing just outside the park in Mariposa, California.