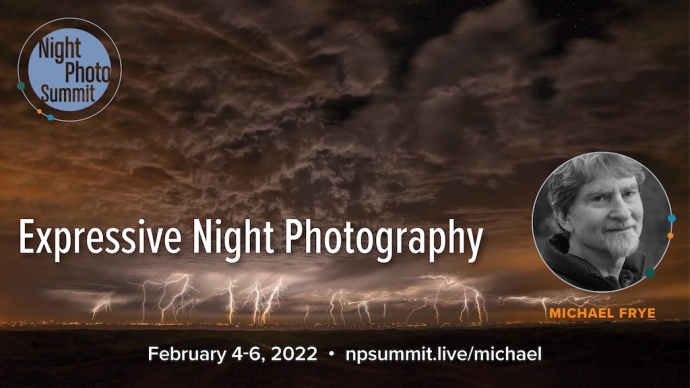 I'm pleased to announce that I'll be teaching at the second annual Night Photo Summit next month!
The Night Photo Summit is produced by the folks who created the National Parks at Night workshop series. I gave a presentation at their first summit last year, and that was a really fun event, so I'm excited to be invited back! This online conference is devoted exclusively to night photography, and I'll be joining over 25 other distinguished instructors, including Art Wolfe, Lance Keimig, Tim Cooper, Colleen Miniuk, Adam Woodworth, Jess Santos, Kevin Adams, Chris Nicholson, Royce Bair, and many more.
My presentation is called Expressive Night Photography. Night photography offers limitless opportunities for creative exploration. The darkness makes it easy to override what little light exists to add your own; it's like having a dark, blank canvas to paint onto. And you can find more varieties of natural light at night than during the day, opening up further creative possibilities. In this presentation we'll explore the many creative paths that dark skies offer, and discuss how you can use night photography to communicate your vision of the world in unique and expressive ways.
And I'm looking forward to seeing all the other presentations, like Night on Earth by the legendary Art Wolfe, Creating Realistic Landscape/Milky Way Blends by Tim Cooper, a light-painting session with Chris Nicholson, Fantastical Fireflies with Kevin Adams… and many more.
The dates for the Summit are February 4th through 6th. All the sessions will be recorded, so if you miss something you can always watch it later.
This promises to be a great learning experience, and a lot of fun, so I hope you'll join us! You can learn more and sign up here:
Night Photo Summit, February 4-6, 2022
— Michael Frye
Related Posts: Join Me at the Night Photo Summit!; Death Valley after Dark
Michael Frye is a professional photographer specializing in landscapes and nature. He is the author or principal photographer of The Photographer's Guide to Yosemite, Yosemite Meditations, Yosemite Meditations for Women, Yosemite Meditations for Adventurers, and Digital Landscape Photography: In the Footsteps of Ansel Adams and the Great Masters. He has also written three eBooks: Light & Land: Landscapes in the Digital Darkroom, Exposure for Outdoor Photography, and Landscapes in Lightroom: The Essential Step-by-Step Guide. Michael has written numerous magazine articles on the art and technique of photography, and his images have been published in over thirty countries around the world. Michael has lived either in or near Yosemite National Park since 1983, currently residing just outside the park in Mariposa, California.