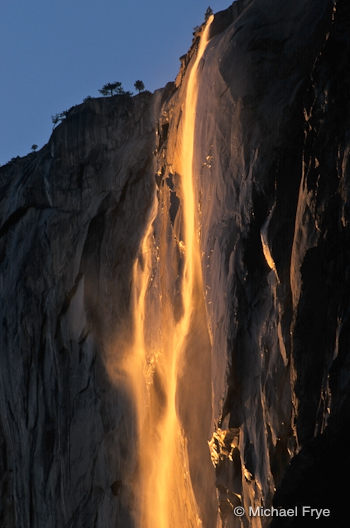 It's February, so Horsetail Fall season has nearly arrived. Herds of photographers will soon be standing tripod-to-tripod hoping to catch that magical neon glow on this ephemeral slice of water.
Conditions have to be just right to capture a classic Horsetail Fall image: Sufficient water has to be flowing, and the skies need to be clear in the west to allow the setting sun to light the waterfall. It looks like the first condition will be met, as there's plenty of snow on top of El Capitan to feed Horsetail. How clear the skies will be is anybody's guess at this point. The ideal scenario would be a stretch of warm clear days during the peak window of light, but that seems unlikely in this El Niño winter.
About that peak window: I posted an article on my website last year describing how I used the Yosemite Association's web cam to determine the optimum window of light for Horsetail Fall. My conclusion was that the peak day occurred about 60 days after the winter solstice, with the best light stretching from about seven days before that to three days after that. I've since learned that the earth wobbles a bit in its orbit, so the sun doesn't set at exactly the same angle 60 days before the solstice as it does 60 days after the solstice. So I now use the angle — the azimuth — of the setting sun as the best way of determining when the peak day will be. This year February 18th comes closest to the ideal angle, with the window of best light stretching from about February 11th through February 21st.
There are basically two good spots to photograph Horsetail: near the El Capitan picnic area along Northside Drive, and along Southside Drive about .8 miles east of the Cathedral Beach picnic area. I prefer being near the El Capitan picnic area, but both locations have their virtues.
Many people have asked me if I'll be doing one-day Horsetail Fall workshops again this year with The Ansel Adams Gallery, but I'll be attending the North American Nature Photography Association's (NANPA) Summit in Reno from February 16-19, so I'll miss most of the Horsetail Fall craziness. The Gallery will be hosting a couple of afternoon photo classes with their staff photographers during that time, and if conditions are right they will lead their groups to good spots for Horsetail Fall.
Even though I might miss out, I hope we get some clear sunsets between February 11th and 21st, as that would make many other photographers happy! Good luck to all of you with Horsetail aspirations this year.