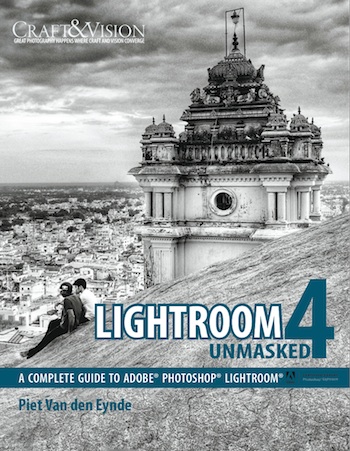 Even if you know a program well it helps to have a comprehensive guide, a book that covers everything from A-Z, so you can look up a keyboard shortcut, remember how to do that thing that you only do once a year, or learn some new tricks.
My favorite Lightroom bible has been Martin Evening's The Adobe Photoshop Lightroom 4 Book. I still think that's a great resource, but I might have a new favorite: Piet Van den Eynde's new ebook called Lightroom 4 Unmasked.
This is a truly comprehensive guide to Lightroom 4, from setting up and importing, to organizing in the Library Module, processing images, mapping them, exporting them or publishing them to Flickr or Facebook, and printing.
If you're new to Lightroom there's a lot of great information here to help you get started. For example, the Lightroom Do's and Don'ts (page 20) offers some invaluable advice to help you make the most of the program and avoid some common pitfalls.
Even if you know Lightroom well you'll undoubtedly discover some new tips. One that I'm anxious to try is on page 238 — using Lightroom's Publish Services to automatically put images on my iPhone and iPad. Cool — I didn't know you could do that.
This is another ebook by Craft & Vision, the publisher of my two previous ebooks. But this one is different. Craft & Vision is calling this a "big book," and it is that: a full 312 spreads. Because this is roughly four times the size of their typical ebooks, the price for Lightroom 4 Unmasked is higher than normal — $20. But until midnight on Tuesday, November 27th you can get it for only $15. Just use the code LR4FIVE on checkout.