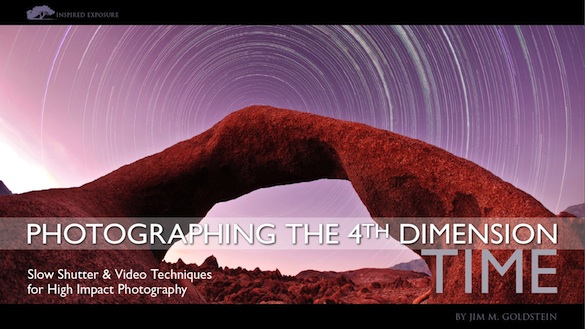 Jim Goldstein has just released a new eBook called Photographing the 4th Dimension – Time. In the book Jim describes seven different slow shutter speed and video techniques for making more creative photographs—including long exposures, light-painting, star trails, time-lapse, and cinemagraphs.
This book is a great way to delve into some new, fun, and creative aspects of photography. If you've never tried photographing star trails, making time-lapse videos, or creating cinemagraphs, Jim makes it easy to get started by giving you step-by-step instructions, sometimes including video tutorials.
Just browsing through the book can inspire you to try some new techniques and give your photography a creative kick in the pants. Personally I was intrigued by the cinemagraphs, where part of a still photograph is animated. Some cinemagraphs I'd seen before looked rather cheesy, but after viewing some of the examples here I realize that they can be done subtly, and beautifully, so I'm eager to try them—and it's nice to have Jim's detailed instructions for doing so.