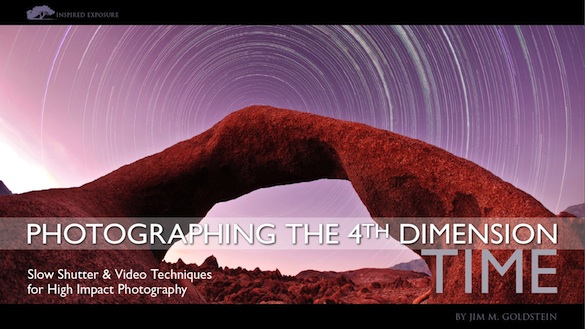 Jim Goldstein has just released a new eBook called Photographing the 4th Dimension – Time. In the book Jim describes seven different slow shutter speed and video techniques for making more creative photographs—including long exposures, light-painting, star trails, time-lapse, and cinemagraphs.
This book is a great way to delve into some new, fun, and creative aspects of photography. If you've never tried photographing star trails, making time-lapse videos, or creating cinemagraphs, Jim makes it easy to get started by giving you step-by-step instructions, sometimes including video tutorials.
Just browsing through the book can inspire you to try some new techniques and give your photography a creative kick in the pants. Personally I was intrigued by the cinemagraphs, where part of a still photograph is animated. Some cinemagraphs I'd seen before looked rather cheesy, but after viewing some of the examples here I realize that they can be done subtly, and beautifully, so I'm eager to try them—and it's nice to have Jim's detailed instructions for doing so.
To get the most out of this eBook, and use some of the advanced techniques presented here, I think it helps to have a solid foundation in the technical fundamentals of photography, so I think this eBook is best suited for intermediate to advanced photographers. But Jim does provide a section called "Exposure 101" to help you get up to speed or remind you of the basics, as well as an excellent chapter with equipment recommendations.
This eBook is an ambitious venture, with a wide range of topics, plus videos, links to outside resources, and printable field checklists. I think Jim does a great job of pulling this all together and packing tons of valuable information into a concise and easy-to-understand package.
Photographing the 4th Dimension – Time is normally $20, but Jim is giving a discount for the initial launch, and until midnight Saturday (PST) you can get it for only $15 by using the discount code IEPT5. And full disclosure here, this is an affiliate link, so I'll earn a commission if you purchase through the link. But I'll never recommend anything unless I think it's a good product and will be helpful to my readers. Please don't make a purchase unless you think this eBook is a good fit for you—but if you do, thank you very much!
—Michael Frye
Related Posts: Free eBook From Craft & Vision; Light & Land eBook Available Today!
Michael Frye is a professional photographer specializing in landscapes and nature. He is the author and photographer of The Photographer's Guide to Yosemite, Yosemite Meditations, and Digital Landscape Photography: In the Footsteps of Ansel Adams and the Great Masters, plus the eBook Light & Land: Landscapes in the Digital Darkroom. He has written numerous magazine articles on the art and technique of photography, and his images have been published in over thirty countries around the world. Michael has lived either in or near Yosemite National Park since 1983, currently residing just outside the park in Mariposa, California.