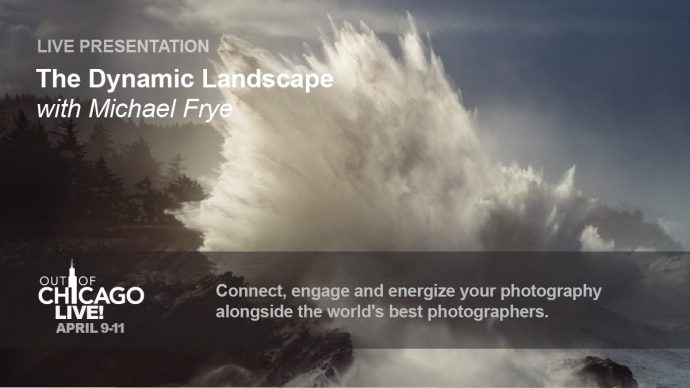 I hope you can join me at the upcoming Out of Chicago Live online photo conference!
I really enjoyed both of the Out of Chicago online conferences last year. It was a lot of fun interacting with everyone, and I loved watching all the presentations from the other instructors.
The next edition of Out of Chicago Live is coming up soon: April 9-11. They've gathered an amazing lineup of instructors in all genres of photography. In the landscape-photography world that includes Alister Benn, Brooks Jensen, Charlotte Gibb, Chuck Kimmerle, Cole Thompson, Colleen Miniuk, Daniel Kordan, Francesco Gola, David Cobb, David Johnston, David Kingham, Eric Bennett, Erin Babnik, Franka Gabler, Ian Plant, Jennifer Renwick, John Barclay, Joshua Cripps, Mark Denney, Martin Bailey, TJ Thorne, Nick Page, Sarah Marino, Sean Bagshaw, and William Neill. It's a quite a lineup, and it's an honor to be part of this group.
We've started off with some pre-conference photo challenges, including one that I did on March 2nd called "Planning and Serendipity in Photography." You can watch that here, and can still participate in this challenge – and all of the pre-conference challenges – by signing up for the conference.
On Saturday during the conference (April 10th), I'll be presenting a talk called The Dynamic Landscape, about creating stronger images by observing and adapting to the changes in the landscape. And on Sunday, April 11th, I'll be part of a panel discussion, Critiquing Great Photographs of the Past. (What photos will we pick? Tune in to find out!)
And I'm looking forward to seeing all of the other presentations and panel discussions, including Focus Stacking is Easy with Nick Page, The 7 Secrets of Outstanding Telephoto Landscapes with Joshua Cripps, Beyond Perfection: Balancing Artistry and Technique with Erin Babnik, Mythbusting! Dispelling the Worst Myths in Nature Photography with David Kingham, Light on the Landscape: Photographs and Lessons from a Life in Photography with William Neill, and Composition Eats Subject for Breakfast with Charlotte Gibb.
A fun new feature this year is the "attendee takeover." Attendees will have the opportunity to do a seven-minute presentation and "share their photography expertise and passion to a worldwide audience."
I'm looking forward to all of it! Click this link to learn more or register:
Out of Chicago Live! April 9-11, 2021
Hope to see some of you there!
— Michael Frye
Related Posts: Planning and Serendipity: A Pre-Conference Photo Challenge; Out of Yosemite Conference
Michael Frye is a professional photographer specializing in landscapes and nature. He is the author or principal photographer of The Photographer's Guide to Yosemite, Yosemite Meditations, Yosemite Meditations for Women, Yosemite Meditations for Adventurers, and Digital Landscape Photography: In the Footsteps of Ansel Adams and the Great Masters. He has also written three eBooks: Light & Land: Landscapes in the Digital Darkroom, Exposure for Outdoor Photography, and Landscapes in Lightroom: The Essential Step-by-Step Guide. Michael has written numerous magazine articles on the art and technique of photography, and his images have been published in over thirty countries around the world. Michael has lived either in or near Yosemite National Park since 1983, currently residing just outside the park in Mariposa, California.