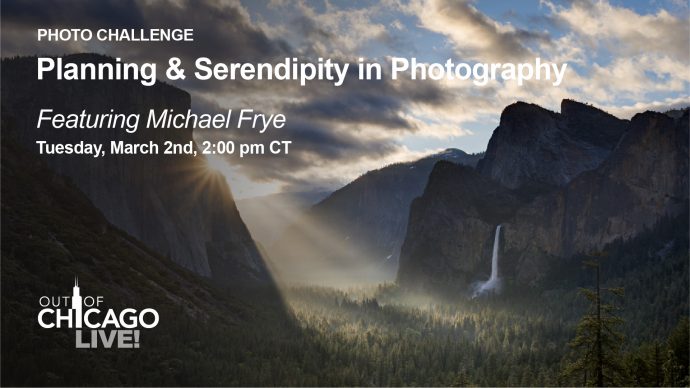 I'm excited to be teaching at the Out of Chicago Live 2021 online photo conference! The first edition last spring was a lot of fun for both instructors and participants. I had a great time, so I'm looking forward to doing it again.
To kick things off, the Out of Chicago team will be conducting a series of pre-conference photo challenges, and I'll be leading one of them next Tuesday, March 2nd, at 2:00 p.m. Central Time (noon Pacific Time) called Planning and Serendipity in Photography.
I think great landscape photographs can be created in many different ways. Some are carefully planned and executed, while other are created spontaneously. But which method is best for you? Do you make your best images through detailed preparation, or by reacting to your surroundings and going with the flow? Or both?
In this webinar I'll start with a short presentation about these different approaches, and then give you a photo challenge to help you understand which approach best unlocks your creativity. The webinar is free to everyone, but to participate in the challenge and be part of the discussion in the Out of Chicago community you need to be registered for the conference. You can register for the free webinar here:
Pre-Conference Photo Challenge: Planning and Serendipity in Photography
The main conference takes place April 9-11. On that weekend I'll be giving a talk called The Dynamic Landscape, about creating stronger images by observing and adapting to the changes in the landscape.
My presentation will be one of many. There will be over 50 instructors participating in the conference, in all genres of photography – people like Bryan Peterson, Chuck Kimmerle, Charlotte Gibb, William Neill, Erin Babnik, Ian Plant, Sarah Marino, Sean Bagshaw, Franka Gabler, and on and on. It's quite a list, and I'm honored to be included in such great company. You can find out more and register for the conference here:
Out of Chicago Live 2021, April 9-11, 2021
I hope to "see" some of you at the photo challenge next Tuesday, and at the conference in April!
— Michael Frye
Related Posts: Out of Chicago Live 2020; Watch Out of Chicago Live!
Michael Frye is a professional photographer specializing in landscapes and nature. He is the author or principal photographer of The Photographer's Guide to Yosemite, Yosemite Meditations, Yosemite Meditations for Women, Yosemite Meditations for Adventurers, and Digital Landscape Photography: In the Footsteps of Ansel Adams and the Great Masters. He has also written three eBooks: Light & Land: Landscapes in the Digital Darkroom, Exposure for Outdoor Photography, and Landscapes in Lightroom: The Essential Step-by-Step Guide. Michael has written numerous magazine articles on the art and technique of photography, and his images have been published in over thirty countries around the world. Michael has lived either in or near Yosemite National Park since 1983, currently residing just outside the park in Mariposa, California.