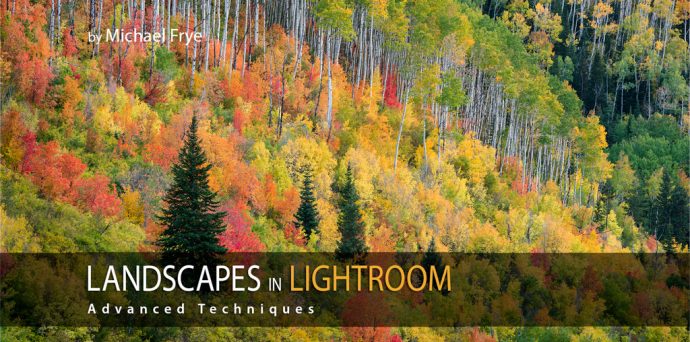 I'm excited to announce a new online course, called Landscapes in Lightroom: Advanced Techniques.
I know many of you have purchased and used my original Lightroom course, Landscapes in Lightroom: The Essential Step-by-Step Guide. (I used to refer to this as an ebook, but it's evolved into much more than that.) This new, advanced course takes you further, showing you how to add sophisticated touches to your images that you might have thought were only possible in Photoshop. Things like…
• Amplifying light
• Bringing out the Milky Way
• Enhancing depth
• Color grading
• Precision dodging and burning
… and much more. The course includes seven video tutorials that you can watch at your own pace, with over four hours of total runtime. You can find out more, and watch a video excerpt, here:
Landscapes In Lightroom: Advanced Techniques
This course will normally be $39, but for a limited time you can use the coupon FALL2020 to get 20% off. The coupon expires on Wednesday, November 11th.
Discount On My Original Lightroom Course
If you've never taken my original Lightroom course, The Essential Step-by-Step Guide, we've decided to put that on sale too. You can use that same coupon code (FALL2020) to get 20% off that as well:
Landscapes In Lightroom: The Essential Step-By-Step Guide (my original Lightroom course)
Or, when you checkout, you'll see an option to get the complete set of both courses, and the same coupon works to get 20% off that too.
New Education Center
In order to launch this new course, we've created a new subdomain on my website called the Education Center. With this in place we'll be able to add more online courses in the future, and we plan to add more community features as well, so stay tuned.
Right now, in addition to my two Lightroom courses, there are also two forums in the Education Center: one for Lightroom, and one for general landscape-photography questions. These forums are available to anyone who has bought either of my Lightroom courses. If you've purchased the Landscapes in Lightroom: The Essential Step-by-Step Guide course in the past, and would like access to these forums, let me or Claudia know, and we'll make it happen. If you have the latest version (with the double rainbow on the cover), there's no need to buy this again!
Since everything in the Education Center is new, there might be a few glitches, so please let us know if you find something that doesn't work correctly. Thanks!
I hope you enjoy the new course, and the new Education Center!
— Michael Frye
Related Posts: Lightroom's New Color Grading Panel; Two Helpful Changes in Lightroom Classic; Image-Adaptive Behavior in Lightroom's Tone Controls
Michael Frye is a professional photographer specializing in landscapes and nature. He is the author or principal photographer of The Photographer's Guide to Yosemite, Yosemite Meditations, Yosemite Meditations for Women, Yosemite Meditations for Adventurers, and Digital Landscape Photography: In the Footsteps of Ansel Adams and the Great Masters. He has also written three eBooks: Light & Land: Landscapes in the Digital Darkroom, Exposure for Outdoor Photography, and Landscapes in Lightroom: The Essential Step-by-Step Guide. Michael has written numerous magazine articles on the art and technique of photography, and his images have been published in over thirty countries around the world. Michael has lived either in or near Yosemite National Park since 1983, currently residing just outside the park in Mariposa, California.