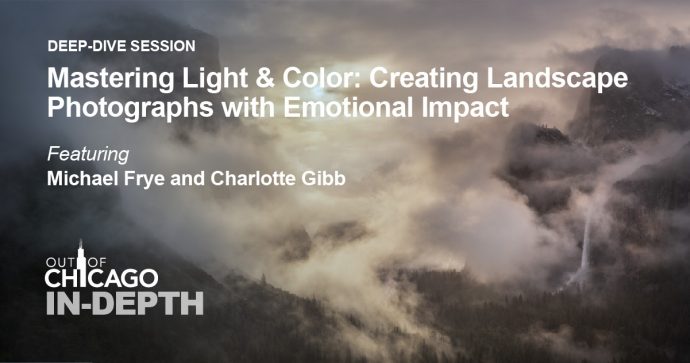 The Out of Chicago In Depth online photo conference is coming up soon – next weekend! You can now see the full schedule on their website. There are so many wonderful sessions; here are just a few that caught my eye:
• Visualization-Driven Photography: From Idea to Execution, with Guy Tal and Colleen Miniuk
• How to Make Money Making Photographs, with David duChemin and Corwin Hiebert
• From Your Heart to Art: Unlocking Your Photographic Potential, with Ted Orland and Alan Ross
• Photographing Plants and Flowers in New, Creative Ways: An In-Depth Exploration, with Sarah Marino and Anne Belmont
• Don't Get the "Blues" Over Blue Skies: How to Be Creative Without Clouds, with Jennifer Renwick and David Kingham
And Charlotte Gibb and I will be teaching Mastering Light and Color: Creating Landscape Photographs With Emotional Impact. I think light and color are essential, fundamental aspects of photography, but often overlooked or glossed over, so this session is designed to give you a deeper understanding of these vital tools, and how to use them to create photographs with a strong message, and powerful emotional impact.
When you sign up for the conference you get access to all the sessions, and each one is recorded, so if you can't attend a session live you can watch it later. Use the code FRYE to get $50 off the conference:
I'm really looking forward to this. Hope to see some of you there!
— Michael Frye
Related Posts: Out of Chicago: In Depth; Out of Yosemite Conference
Michael Frye is a professional photographer specializing in landscapes and nature. He is the author or principal photographer of The Photographer's Guide to Yosemite, Yosemite Meditations, Yosemite Meditations for Women, Yosemite Meditations for Adventurers, and Digital Landscape Photography: In the Footsteps of Ansel Adams and the Great Masters. He has also written three eBooks: Light & Land: Landscapes in the Digital Darkroom, Exposure for Outdoor Photography, and Landscapes in Lightroom: The Essential Step-by-Step Guide. Michael has written numerous magazine articles on the art and technique of photography, and his images have been published in over thirty countries around the world. Michael has lived either in or near Yosemite National Park since 1983, currently residing just outside the park in Mariposa, California.