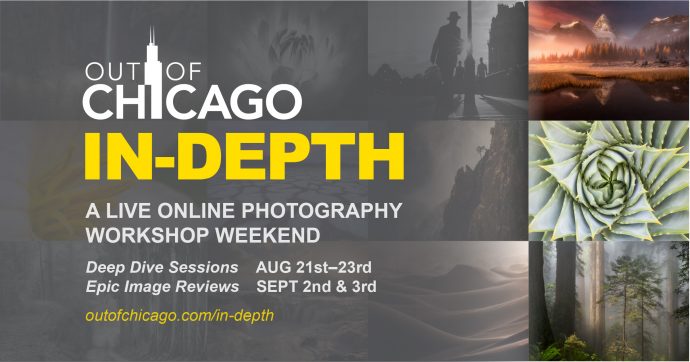 I really enjoyed my experience with the Out of Chicago Live online photography conference in May. With over 800 participants and 60+ instructors, it was a big event, but Chris Smith and his team at Out of Chicago did a great job of organizing it, and everything went smoothly. It was a lot of fun interacting with everyone, and I thoroughly enjoyed getting to watch all the presentations from the other instructors.
Now the Out of Chicago folks are at it again, with a slightly different format, for Out of Chicago: In Depth.
As the name implies, this new online conference is designed to go deeper, with longer, more advanced, in-depth sessions. I'll be teaming up with the wonderful photographer and instructor Charlotte Gibb to teach a session called Mastering Light & Color: A Deep Dive Into the Process of Creating Landscape Photographs With Emotional Impact. I think light and color are essential, fundamental aspects of photography, but often overlooked or glossed over, so this session is designed to give you a deeper understanding of these vital tools, and how to use them to create photographs with a strong message, and powerful emotional impact.
Other instructors include Guy Tal, Erin Babnik, Ian Plant, Freeman Patterson, Alan Ross, Ted Orland, Nick Page, Brenda Tharp, Adam Gibbs, John Barclay, Jack Curran, Brooks Jensen, Colleen Miniuk, Tony Sweet, David Kingham, Jennifer Renwick, Sarah Marino – and many more. Quite a lineup!
I'm looking forward to viewing presentations by all of these amazing photographers, including Visualization-Driven Photography with Guy Tal and Collen Miniuk, and How to Be a Happy Photographer with Alister Benn and TJ Thorne (we could all use some advice on that, right?). Plus, two of my favorite photographers – and people – Alan Ross and Ted Orland, will be presenting Unlocking Your Photographic Potential. If you're not familiar with Alan and Ted, you should be! They were both assistants to Ansel Adams, and are wonderful photographers in their own right, with very different and unique styles. They're both extremely knowledgable and thoughtful about photography, and I'm sure I'll learn a lot from this presentation.
The deep-dive sessions will take place August 21st to 23rd. At the end of each session participants will be invited to complete a related assignment and submit images for review, with followup review sessions on September 2nd and 3rd. All the sessions will be recorded, so if you can't attend a live session you can watch it later.
You can save $50 on the tuition by using the code FRYE upon checkout. Click this link to sign up or get more information:
Out of Chicago: In Depth, August 21-23 and September 2-3.
I hope to see some of you there!
— Michael Frye
Related Posts: Out of Chicago Live; Out of Yosemite Conference
Michael Frye is a professional photographer specializing in landscapes and nature. He is the author or principal photographer of The Photographer's Guide to Yosemite, Yosemite Meditations, Yosemite Meditations for Women, Yosemite Meditations for Adventurers, and Digital Landscape Photography: In the Footsteps of Ansel Adams and the Great Masters. He has also written three eBooks: Light & Land: Landscapes in the Digital Darkroom, Exposure for Outdoor Photography, and Landscapes in Lightroom: The Essential Step-by-Step Guide. Michael has written numerous magazine articles on the art and technique of photography, and his images have been published in over thirty countries around the world. Michael has lived either in or near Yosemite National Park since 1983, currently residing just outside the park in Mariposa, California.