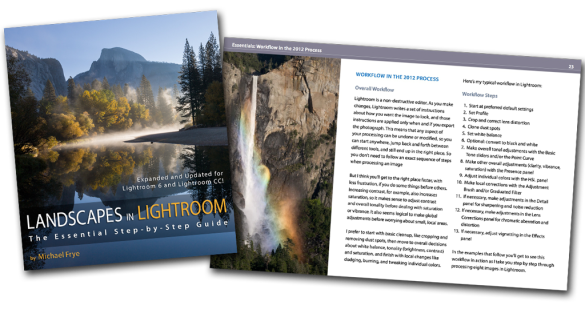 Landscapes in Lightroom: The Essential Step-by-Step Guide
PDF ebook with video tutorials
103 double-page spreads
14.95 for a limited time, after which it goes up to 27.00
FAQ
Here it is! The latest update to my ebook, Landscapes in Lightroom: The Essential Step-by-Step Guide, is now available. This new edition is revised and updated for Lightroom 6 and Lightroom CC, and includes two new examples and videos demonstrating how to use the most significant new features – the HDR Merge and the Panorama Merge.
Of course this new version still has all the features that made the first edition so popular. First, you can download the original Raw files used as examples in the ebook, and then follow along with each step yourself – just as if you were attending one of my workshops.
Second, when you purchase the ebook you get exclusive access to ten videos demonstrating different aspects of Lightroom's Develop Module, like using the Adjustment Brush, Spot Removal Tool, and Point Curve, advanced retouching in Lightroom, the new HDR Merge, and much more. It's great to read about a tool or technique; it's even better to watch a demonstration, and then try it yourself on the same image.
And third, there's the PDF ebook itself. This includes eight examples, where I take you step-by-step through processing each image in Lightroom. You'll get to see my workflow in action, with a variety of images – high contrast, low contrast, color, black and white, HDR merge, and panorama. You'll learn many specific techniques and tips, but perhaps more importantly, you'll gain insight into the decision-making process that so many photographers struggle with. How much contrast is enough? How far can you push the saturation without making the image look garish or fake? What's the right white balance?
And there's much more. The first section of the book is devoted to understanding the Develop Module, and especially the powerful Basic Panel Tone Controls. There are many things going on under the hood that haven't been talked about much (not even by Adobe, for some reason) like the automatic highlight recovery, and how all the Basic Panel Tone Controls are image-adaptive – that is, they auto-adjust their behavior based on image content.
Here's just a partial list of things you'll find in the ebook:
Understanding the 2012 Process
An in-depth look at the Basic Panel Tone Controls
Image-adaptive behavior: how Lightroom's tone controls auto-adjust their behavior internally based on image content.
New features in Lightroom 6, including the HDR Merge, Panorama Merge, and an unannounced new feature of the Spot Removal tool.
Default settings: where should you start?
Establishing a workflow
Adjusting white balance
Using the Adjustment Brush and Graduated Filter
Using the Target Mode in the HSL Panel
Straightening leaning trees
Handling high-contrast scenes
Converting images to black and white
Using curves
Using the spot removal tool
Advanced retouching in Lightroom
Integrating Lightroom with Photoshop
Using targeted curves with layer masks in Photoshop
Using the new HDR Merge
The new Panorama Merge
And if you're still using Lightroom 4 or 5, almost everything in this ebook still applies. That goes for ACR too! All the tools in Adobe Camera Raw are essentially identical to Lightroom's Develop Module – they're just laid out differently, and sometimes work slightly differently. But everything I talk about in this book can be done in Adobe Camera Raw 8.0 or later, and most things with ACR 6.0 or 7.0.
Limited Time Offer
For a limited time this new edition is available at the old price of 14.95, but after that it will go up to 27.00. That's still a great price for everything this ebook and video bundle includes, but why not save a few dollars and order it now?

P.S. If you bought the first version, Landscapes in Lightroom 5, you're entitled to a free update. You should have received an email with a link for downloading the new edition, but if you missed that, just email us and we'll give you a code for a free download. You don't need to find your receipt or anything, as we can look you up in our system.

Questions? Read the FAQ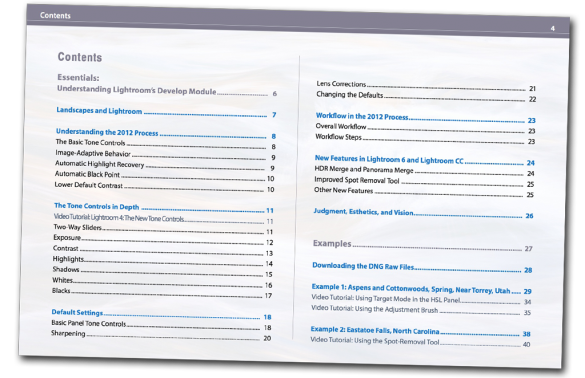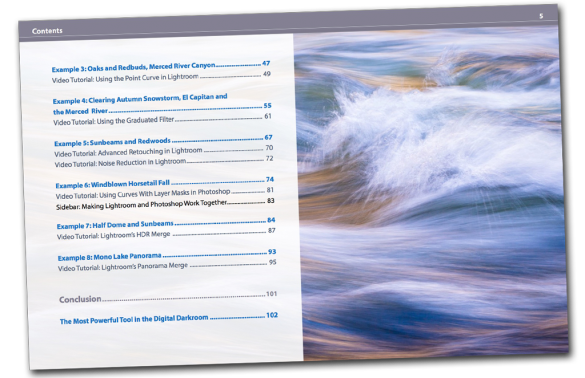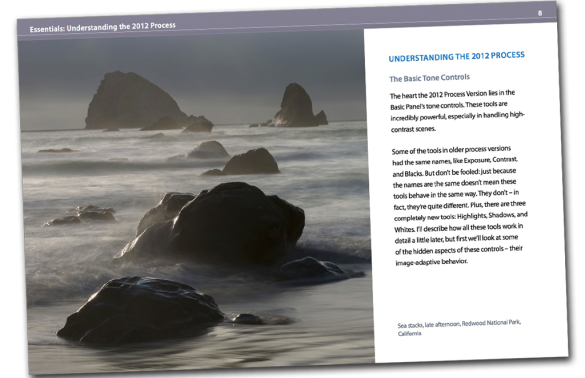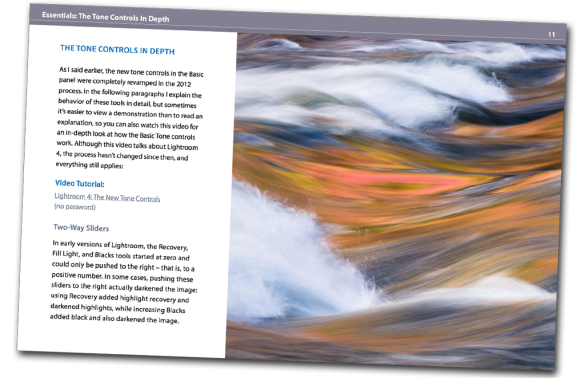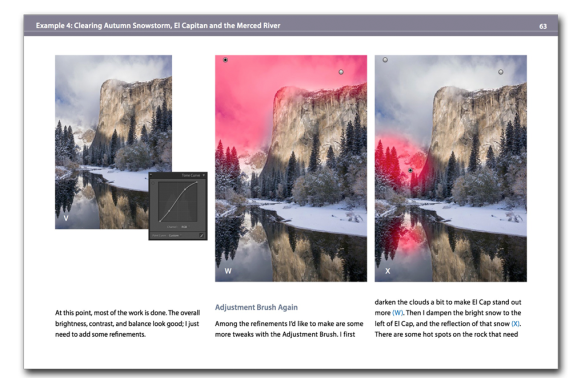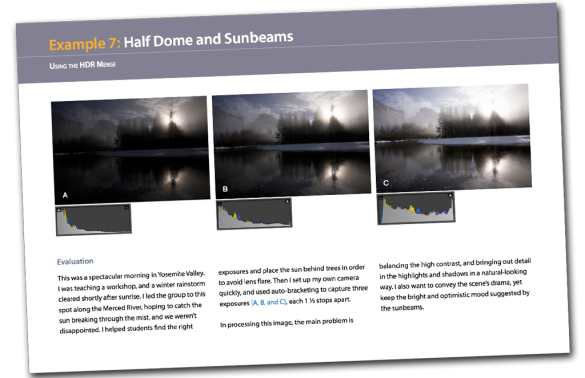 Reviews of the First Edition:
"I'm absolutely loving everything about your book! It's fantastic on all fronts.
And your videos are a gigantic bonus; extremely helpful. I love the clarity of your instructional style."
— Chris Dierdorff

"Just wanted you to know that I have used LR since the beta the year before it was released. I have used every version since then. In addition, I have taken multiple classes, read many books, and purchased the on-line tutorials of several pretty high-powered professionals. Over the years I have done some pretty darn good processing. But I have never really understood what the heck I was doing with the various adjustments until reading your recent eBook. All of a sudden everything is completely clear, and I am now making adjustments because I know what they will do rather than just noodling around.
"This should be required reading for all Lightroom users, and I am certainly recommending it to my friends. It is light years ahead of anything else I am familiar with. Thanks for writing it…you have changed the way I process!"
— Scott Oberle
"I just wanted to drop you a quick note to tell you that I purchased your ebook and it is excellent. I'm an experienced LR user however I have learned a number of new things in your ebook. Your teaching style is excellent and your photography is outstanding.  I would highly recommend this ebook to anyone looking to improve their image processing in LR."
— Betty Wiley
"I want to thank you for your "Landscapes in Lightroom 5" ebook. I will mirror Scott Oberle's comments about having watched lots of videos & instructions, including Adobe's, on LR5. Previously, before your e-book, I felt like I was still stumbling around the Develop Module without understanding "what" I was trying to accomplish, but more importantly, the "why and how" I was doing something to the image. Your e-book made it very clear. I've gone from dreading post-processing to actually enjoying it, because now I evaluate an image, and THEN decide HOW I want to change it."
— Bill Beckler
"I just got the book and about half way through it. I can't believe how much I have learned so far. You have destroyed eveything I thought I knew about using LR4. Can't wait to apply some of this new knowledge on some of my own work. Great job! Easy to read and understand."
— Bruce Johnson
I would just like to say how good it is to follow your thinking when working on your images. It has made me realize that less is more in so many cases. I'm pretty well versed as regards to LR functions but it is always healthy to see how you tackle problems and come up with such stunning landscapes. To those who are wondering, this ebook is worth every centime. 🙂
— Malcolm McLeod
I already have my copy! Your writing style makes it easy and educational read. I have already learned several new things and am only on page 19! I am looking forward to working on the examples you provide. I think this is an excellent learning tool.
— Richard Valenti
Just now purchased the e-book, and I have to say it looks like a bargain – even before the discount. You could probably charge twice as much and still sell as many! I look forward to spending some quality time with it and your sample files (not to forget the videos). Did I mention already it's a bargain?
— Robert Gissing