Landscapes in Lightroom: Frequently Asked Questions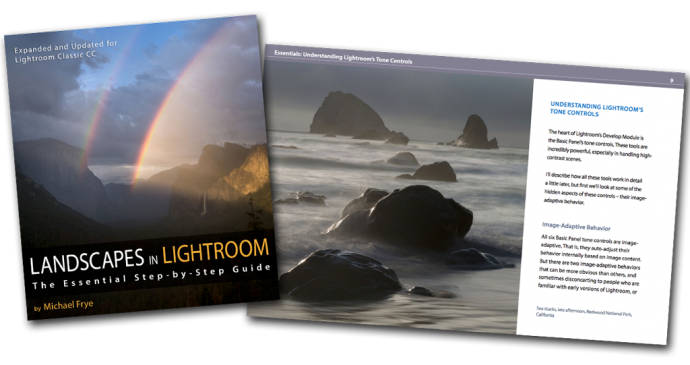 Landscapes in Lightroom: The Essential Step-by-Step Guide
PDF ebook with video tutorials
116 double-page spreads
17 video tutorials
DNG sample files available for download
$39
Do I need any special software to read the ebook?
No! It's a PDF file, and it's easy to read on both Windows and Apple computers with the free Adobe Reader (or with Preview on a Mac).
How do I view the videos?
There are links and passwords to the videos within the PDF ebook itself. The text and videos are designed to provide an integrated learning experience, with the videos expanding on the ideas presented in the text. For instance, in the first example I describe how I used the Adjustment Brush to darken the top part of the image, then provide a link to a video tutorial about using the Adjustment Brush, where I delve into more detail about using this tool, and show you exactly what I did to the example image. (Note that videos are not downloadable; they can only be streamed.)
Can I read the ebook on my tablet?
Absolutely. When you purchase the ebook, you'll get an email with a download link. You can click on that link from the email application on your tablet to download the PDF directly to your tablet.
On an iPad, once the PDF has opened in Safari you'll want to open it in iBooks to automatically save it so you won't have to download it again (iBooks also provides the best reading experience). The procedure for doing this varies depending on which iOS version you're running. Try just tapping on the screen in Safari; you might then see an option to "Open in iBooks." If you don't see this option, tap the Share button (looks like a square with an arrow), and look for the option to "Copy to iBooks." Either way, it may take a minute or two to open in iBooks, so be patient.
You could also download the PDF ebook to your laptop for desktop, then transfer the file to your tablet with Dropbox or another file-sharing service. With an iPad you could also use Airdrop to transfer the PDF, or sync the PDF to your iPad using the Books tab in the iPad panel in iTunes.
How do I download the DNG Raw files so I can follow along with the examples?
When you purchase the ebook you'll get an email with a link to the DNG files (there's also a link within the PDF ebook itself). When you get to the page, don't click on the folder – just click on Download in the upper-right corner. That should download the entire folder (called LRLandscapes) to the Downloads folder on your hard drive. Then just unzip the folder (if it didn't unzip automatically) and import the images into Lightroom.
If you're not sure how to import the DNG files into Lightroom, click here for detailed instructions.
Still have questions?
Email us at support@michaelfrye.com and we'll try to help! If you're experiencing problems downloading the PDF, please try to include as much information as possible, including the device and operating system you're using, and what exactly happens when you try to download the PDF. Any information you can provide will help us help you!
I just got the book and about half way through it. I can't believe how much I have learned so far. You have destroyed eveything I thought I knew about using Lightroom. Can't wait to apply some of this new knowledge on some of my own work. Great job! Easy to read and understand.
I would just like to say how good it is to follow your thinking when working on your images. It has made me realize that less is more in so many cases. I'm pretty well versed as regards to LR functions but it is always healthy to see how you tackle problems and come up with such stunning landscapes. To those who are wondering, this ebook is worth every centime. 🙂
I already have my copy! Your writing style makes it easy and educational read. I have already learned several new things and am only on page 19! I am looking forward to working on the examples you provide. I think this is an excellent learning tool.
Just now purchased the e-book, and I have to say it looks like a bargain – even before the discount. You could probably charge twice as much and still sell as many! I look forward to spending some quality time with it and your sample files (not to forget the videos). Did I mention already it's a bargain?