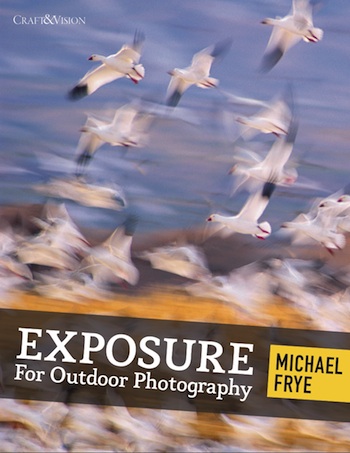 I know many of you have already purchased my ebook Exposure for Outdoor Photography, which I greatly appreciate – thank you so much!
If you don't own this ebook yet, now is your chance to get a copy at a great price, because Craft & Vision has just put it on sale. Until midnight on Tuesday, November 18th, the book is half price – only $2.50! No discount code is required.
In this ebook I start with a comprehensive discussion of exposure fundamentals like shutter speed, aperture, ISO, and reading histograms, then go deeper by taking you through ten practical, real-life examples where I've used these basic principles to control the exposure, the sharpness, and the photograph's message.
The examples go from easy to complex, and include using a histogram to find the right exposure, controlling depth of field, freezing and blurring motion, when to push the ISO, spot metering and the Zone System, and HDR and exposure blending. I also include several exercises to help improve your technique. It's a concise, easy to understand, yet comprehensive course in mastering the most important skill in photography.
Again, no discount code is required – you just have to place your order before midnight on Tuesday. Click here to order your copy!
— Michael Frye
Related Posts: New eBook: Exposure for Outdoor Photography; My New eBook is Now Available!; Digital Photography Basics: Reading Histograms
Michael Frye is a professional photographer specializing in landscapes and nature. He is the author or principal photographer of The Photographer's Guide to Yosemite, Yosemite Meditations, Yosemite Meditations for Women, Yosemite Meditations for Adventurers, and Digital Landscape Photography: In the Footsteps of Ansel Adams and the Great Masters. He has also written three eBooks: Light & Land: Landscapes in the Digital Darkroom, Exposure for Outdoor Photography, and Landscapes in Lightroom 5: The Essential Step-by-Step Guide. Michael has written numerous magazine articles on the art and technique of photography, and his images have been published in over thirty countries around the world. Michael has lived either in or near Yosemite National Park since 1983, currently residing just outside the park in Mariposa, California.