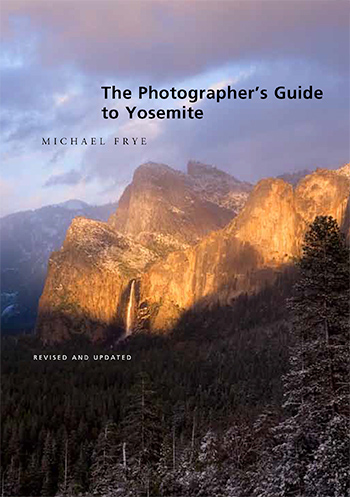 Many people have been asking me when the new edition of The Photographer's Guide to Yosemite will be available. Well as I write this an actual, real, physical copy is sitting on my desk. It's an advance copy, which means it was shipped by air—the rest are on a boat from China, and should be here and on bookshelves in about a month. So the wait is almost over!
The new edition has three new locations, and completely revised and updated information for the entire park. You'll find new tips specifically designed for digital photography, including Digital Camera Settings, White Balance, Exposure, and HDR and Exposure Blending, plus Depth of Field, Filters, Night Photography, and much more. Most of the 100+ photographs are new too, and the reproductions are excellent—a pleasant surprise for an inexpensive guidebook.
Of course I'll let you know when the book goes on sale. And if you can't wait, or prefer the convenience of having all the information in your smart phone or tablet, all the information in the new book is in the iPhone and iPad app.
Thanks to all of you who have purchased The Photographer's Guide to Yosemite over the years. So many people have taken the time to let me know how much they love the book, and I really appreciate that. I hope you'll like the new edition just as much!
A Note to Subscribers
I'm using a new service (AWeber) to send out blog subscriptions, so if you subscribe to this blog by email you might notice that the format looks a little different when you view this post in your inbox. You don't need to do anything; if you already subscribe you'll continue to get the posts by email. Thank you so much for subscribing!
—Michael Frye
Related Posts: The Photographer's Guide to Yosemite iPhone App is Available Today!; The iPad Version is Here!
Michael Frye is a professional photographer specializing in landscapes and nature. He is the author and photographer of The Photographer's Guide to Yosemite, Yosemite Meditations, and Digital Landscape Photography: In the Footsteps of Ansel Adams and the Great Masters, plus the eBooks Light & Land: Landscapes in the Digital Darkroom, and Exposure for Outdoor Photography. He has written numerous magazine articles on the art and technique of photography, and his images have been published in over thirty countries around the world. Michael has lived either in or near Yosemite National Park since 1983, currently residing just outside the park in Mariposa, California.