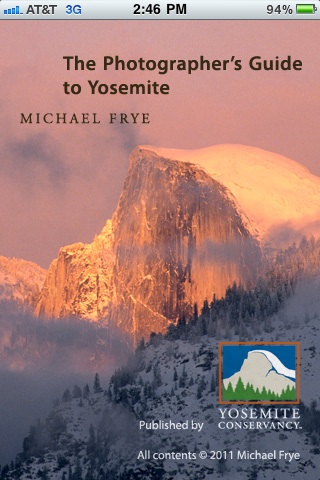 I've heard a lot of wonderful comments about the iPhone app version of the Photographer's Guide to Yosemite since it was released almost two weeks ago. There are ten ratings and eight reviews in the app store, all five stars. And many of you have taken the time to write me personally to say how much you like the app. Thank you all so much! I really appreciate all the kind words, and I hope the app helps all of you get some great photos of Yosemite.
We just released a minor update to the app, version 1.1. This fixes a minor inconsistency in the menus, and adds a link to the YouTube video about the app in the Extras section. This update should appear automatically in the App Store on your phone or iPod Touch, and of course the update is free.
I've had lots of questions about iPad and Android versions. First, the current iPhone version will work on the iPad, but it's designed for the iPhone's smaller screen. We are working on a version that's optimized for the iPad, with a new design that takes advantage of the larger screen, and some additional features. We'd love to make this a free upgrade, so that iPad users could download the iPhone version now, and upgrade to the iPad-only version when it comes out. Unfortunately, due to the large size of the iPad app (lots of photos!), we have to make it a separate application in iTunes, and it won't be eligible for an upgrade from the iPhone version. Of course I hate to suggest waiting to buy the app! But the iPad version will be available soon, maybe even within the next month, so if you own an iPad and can wait a bit I'd suggest doing so.
As for an Android version, we are working on that too, but that will take a bit longer, as it's a completely different operating system that requires different coding. We hope to have that available early next year.
Thanks again for all your support!
—Michael Frye
Related Posts: The Photographer's Guide to Yosemite iPhone App is Available Today!
Michael Frye is a professional photographer specializing in landscapes and nature. He is the author and photographer of The Photographer's Guide to Yosemite, Yosemite Meditations, and Digital Landscape Photography: In the Footsteps of Ansel Adams and the Great Masters, plus the eBook Light & Land: Landscapes in the Digital Darkroom. He has written numerous magazine articles on the art and technique of photography, and his images have been published in over thirty countries around the world. Michael has lived either in or near Yosemite National Park since 1983, currently residing just outside the park in Mariposa, California.