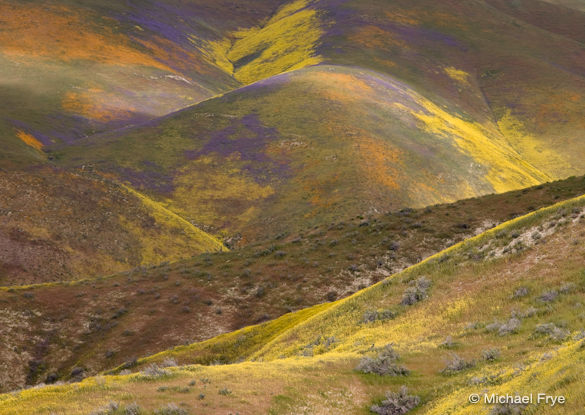 Wildflowers in the Temblor Range, April 3rd, 2010
Thanks to all of you for your participation in this blog during 2010. Your readership and comments have helped make this a great year. Your thoughts and insights about landscape photography have added great depth to whatever I've written here. I feel like I've made many new friends, and connected with lots of people who share a passion for landscape photography.
Among the regular commenters, three recently had work accepted into the Yosemite Renaissance XXVI exhibit: Robin Black, Brent Gilstrap, and David Hoffman. Congratulations! The exhibit opens February 25th at the Yosemite Museum Gallery. The opening reception is always a lot of fun, so I hope to see some of you there.
Another frequent contributor is fellow blogger G Dan Mitchell. Dan just did something really interesting. Attempting to pick out his best photos from 2010, he invited his readers to help him make the selections. He just posted the final results last night, and it's a great collection of images.
Highlights From the Past Year
I thought it might be appropriate to look back at some of the highlights of the past year. This is not a comprehensive list by any means, so if your favorite post is missing, I apologize! These are just a few things that jumped out at me as I looked back through the posts from 2010.
Critiques
In January I did my first photo critique, of Tim Parkin's photograph that he called "That Damned Loch." The critiques have become very popular; you can find them all by clicking on the Critiques Category at the bottom of the right-hand sidebar. Meanwhile Tim has gone on to launch a new online magazine called Great British Landscapes. This looks like a great resource for any landscape photographer, British or otherwise, and I wish Tim much success with this venture.
Podcast Interview
Also in January, popular photo blogger Jim Goldstein recorded a podcast interview with me. Jim really has his pulse on the latest trends in the ever-changing world of digital photography, and I highly recommend reading his blog and following him on Twitter.
The One That Got Away
On March 1st I wrote a post about a fantastic sunset in Yosemite Valley that I missed. In April I critiqued a beautiful photograph by Sudheendra Kadri. Well it turns out that Sudhi also captured a fantastic image of that sunset from Tunnel View on that day when I decided (much to my regret) to stay home. Nice one Sudhi!
Temblor Range Wildflowers
In early April I photographed the most amazing wildflower display I've ever seen in southern California's Temblor Range. I posted one photo on this blog, and more on my 25 Years in Yosemite blog.
First Video
June brought my first video tutorial, called The Power of Curves. Since then I've posted several more videos about the digital darkroom, and these have also become a popular feature on the blog. To see them all, scroll down to Categories at the bottom of the right-hand sidebar, and click on Video Tutorials.
Photographs That Inspire
One of the most popular and most re-tweeted posts from 2010 was called Photographs That Inspirefrom September 29th. This was a subject that I'd been thinking about for a long time, so it was great to see such a positive response—thanks!
What's Ahead in 2011
I want to make this blog an even better resource for people who love landscape photography. I'm planning many new features in 2011, which I'll announce… at the appropriate time. Stay tuned! And please invite your friends to join the conversation. The more ideas we share, the more we all learn.
Thanks again for helping to make 2010 a great year!