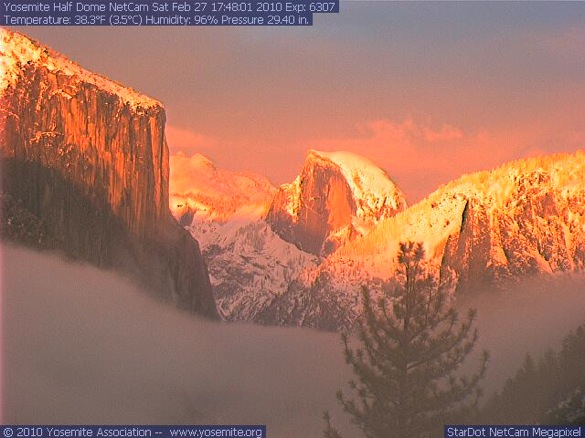 Yosemite Association's web cam, Saturday, 5:48 p.m.
As I was worked in my office in Mariposa Saturday afternoon I kept an eye on the weather outside, as well as the satellite and radar images on the web, just in case the storm might clear before sunset. It looked like there was a chance, but only a small chance. I had a lot of work to do. I decided to stay home rather than make the two-hour round trip to Yosemite Valley.
Just before sunset I noticed a sliver of clear sky to the west, then sun hitting some trees on a nearby ridge. I looked at the Yosemite Association's web cam and saw the image you see above. Ouch! Oh well, I guess you can't always be in the right place at the right time. The moral of the story is that I should always take the chance, even if the odds are low, because it's precisely those situations when truly spectacular light can occur. I hope some of you were there and captured some great images!
To console myself, my wife Claudia and I drove down to Merced yesterday afternoon to check out the orchards. We found numerous trees in bloom, mostly almonds I think, including this grove where the recent rain had knocked off many petals, making it look like snow had fallen. What appears to be dry ground between the rows of trees is actually long pools of water two to six inches deep covered in blossoms.