Yosemite is a beautiful place, a gift to the eyes, but sometimes I must vary my visual diet. Hearing reports of great wildflowers from the Temblor Range, on the edge of Carizzo Plain National Monument, I tried to get away to photograph the area, but deadlines and obligations kept me home. Finally last Friday I was able to escape for one night. Arriving at the Temblors in the afternoon I saw vivid patches of yellow, orange, and purple flowers on hillsides high above. Somehow I had to get up there.
Luckily I'd photographed this area in 2006 (you can see a photo on my other blog), so I knew a route that led to one of the best-looking spots. The ascent was steep, and got my heart and lungs working, but it wasn't difficult. I flushed a bobcat out of some tall grass half way up. About 1200 feet above the valley floor I reached the area with the densest flowers.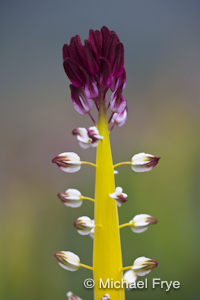 When you see distant patches of yellow, orange, and purple in southern California during spring, you assume you're looking at goldfields, poppies, and lupine. But that's not what I found. These gardens contained yellow hillside daisies, orange San Joaquin blazing stars, and purple phacelia, plus dense fields of desert candles. The flowers often grew in pure stands, devoid of grass—a splash of yellow here, purple there. It looked like someone had dripped paint on the hills.
Everywhere I turned another photograph demanded to be taken—and another, and another, and another. I circumnavigated a small, steep draw packed with flowers, photographing it from every angle. I tried to capture layers of desert candles mixed with phacelia. Forced down by gathering darkness I still couldn't resist photographing yet another colorful hillside across the canyon, making 30-second exposures in the gathering gloom, finally reaching the car in the dark.
The next morning I was surprised to see fog. I had intended to climb that hill on the opposite side of the canyon, the one I'd photographed at dusk, but wondered if that was still a good idea. After mulling my options over breakfast I decided to stick with the plan; maybe the flowers would look interesting through the mist.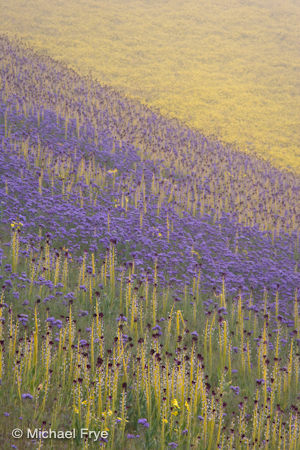 The fog wasn't too thick at lower elevations, so it was easy to find the correct ridge to climb. Higher up the fog got thicker. At a misty knoll I faced a decision: should I follow the ridge as it angled to the left, or cross a gully and go straight ahead? Knowing that the best flower patches were somewhere to the left, I decided to follow the ridge. After a while I butted up against a barely-visible hillside draped in orange, yellow, and purple. Somehow I'd stumbled into the exact right spot.
The fog was too thick to photograph anything more than a few feet away, so I concentrated on closeups. Occasional rifts presented tantalizing views of colorful hillsides. Gradually the rifts lengthened, allowing photographs of more distant scenes.
I climbed up and down the hills, looking for every possible angle. I found the mother lode of desert candles—acres of them. This area, which didn't look as spectacular from below as the spot across the canyon, turned out to be even richer photographically.
The flowers were just on the far side of their peak, and I knew I wouldn't be able to return before they faded, so it was hard to tear myself away, but eventually I had to start walking down. Even on the descent I saw fantastic compositions that demanded stops; in fact the image at the top of this post was one of the last ones I made. I'm glad I cut the chains to my desk, even for one night—it was easily the most spectacular wildflower display I've ever seen or photographed.