Eastern Sierra Fall Color:
Composition and Creativity among the Aspens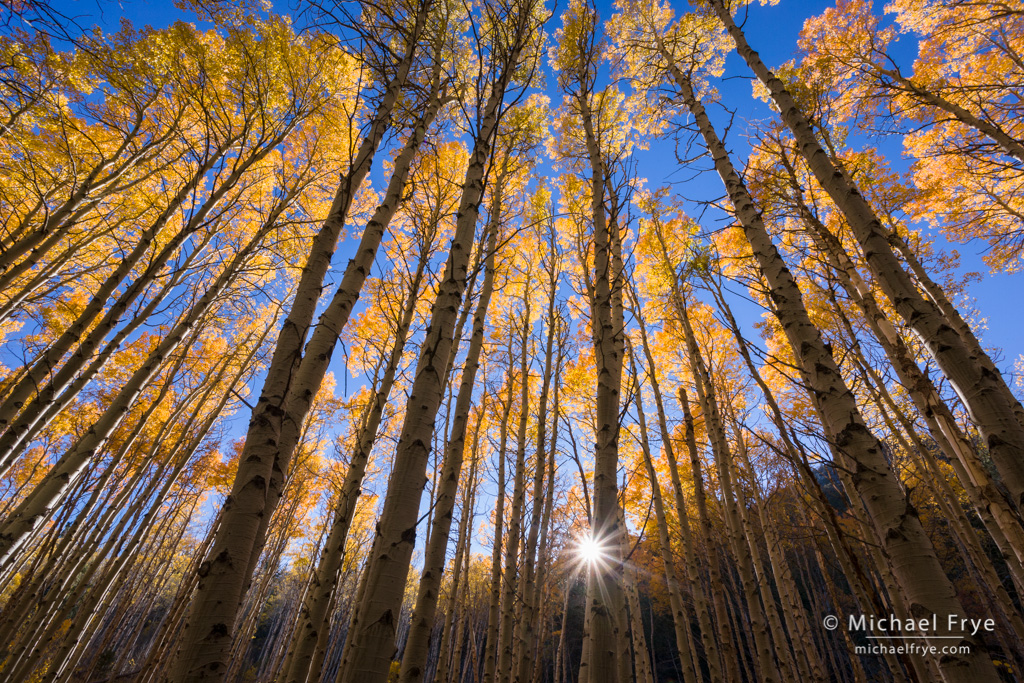 • Instructor: Michael Frye
• October 15-18, 2019 (four days)
• Mono Lake and the Eastern Sierra
• Focus: Field and Classroom
• Level: Advanced Beginner, Intermediate, and Advanced
• Maximum 10 Participants
• Tuition: $1025
• Workshop FAQ
This workshop is full!
Please email us to sign up for the waiting list.

Some people think that an eye for composition is something you're born with, and you either have it or you don't. But in my years teaching photography I've seen that everyone can learn to make better compositions. Composition can be taught, and learned. And no matter how long you've been making photographs you can always learn more.
In this workshop I'll teach you how to identify and isolate the most essential elements of a scene, and apply fundamental concepts like balance and repetition. Then we'll go beyond the fundamentals and help you tap into your imagination and innate creativity, look past the obvious perspectives, and find your own unique way of looking at the world.
This workshop is timed for the typical peak of fall color among the beautiful aspen groves of the eastern Sierra. I've been visiting this area for a long time, and will take you to some of my favorite locations for photographing these colorful displays.
Since the focus of this class is on composition, participants should already have a good understanding of camera fundamentals like exposure, shutter speeds, aperture, and depth of field. While we don't plan to do major hiking in this workshop, participants should be capable of walking short distances (up to a mile one way) over uneven terrain.
This promises to be a really fun workshop—join us!
Legal Stuff:
This workshop is conducted by Michael Frye Photography and is operated under special use permit with the Inyo National Forest. In accordance with Federal law and U.S. Department of Agriculture policy, this institution is prohibited from discriminating on the basis of race, color, national origin, sex, age or disability. (Not all prohibited bases apply to all programs.)
To file a complaint of discrimination, write USDA, Director, Office of Civil Rights, Room 326-W, Whitten Building, 1400 Independence Avenue, SW, Washington, D.C. 20250-9410 or call (202) 720-5964 (voice and TDD). USDA is an equal opportunity provider and employer.