Death Valley under the Stars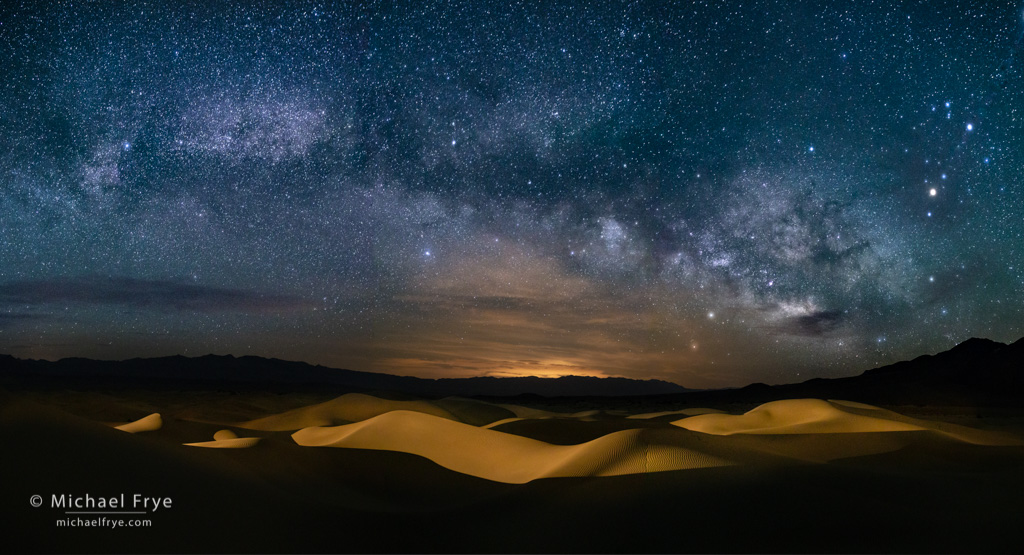 • Instructor: Michael Frye
• April 1-4, 2019 (four nights)
• Death Valley National Park, California
• Focus: Night Photography, field and classroom.
• Level: Intermediate and Advanced
• Maximum 8 Participants
• Tuition: $1295
• Workshop FAQ
This workshop is full!
Please email us to sign up for the waiting list.

We're going back to Death Valley! The sculpted sand dunes and eroded badlands of this national park are wonderful places for night photography, and perfect complements to a sky filled with the Milky Way, or swirling star trails.
During this workshop you'll learn light-painting techniques that will allow you to combine these landforms with the night sky to create striking images that capture the magic and mystery of the desert after dark. We'll also cover, in detail, all of the techniques needed to photograph nighttime landscapes, including exposure, focusing in the dark, and image processing.
The workshop is timed for just before the new moon, so we'll have dark skies full of stars. Death Valley was named an International Dark Sky Park, and there's very little air traffic in this area, making it easier to capture star-trail photographs without jet trails.
Here are some of the things we'll cover during the workshop:
• Exposure
• Reading Histograms
• Composition
• Equipment for nightime photography
• Exposure for stars and star trails
• Focusing in the dark
• Reducing noise during long exposures
• Light-painting techniques
• Planning nighttime photographs
• Using multiple exposures
• Image-stacking for star trails
• Processing nighttime photographs
• Blending image stacks
This promises to be a really fun workshop – I hope you'll join us!