Starry Skies Adventure:
Yosemite, Eastern Sierra, and Bodie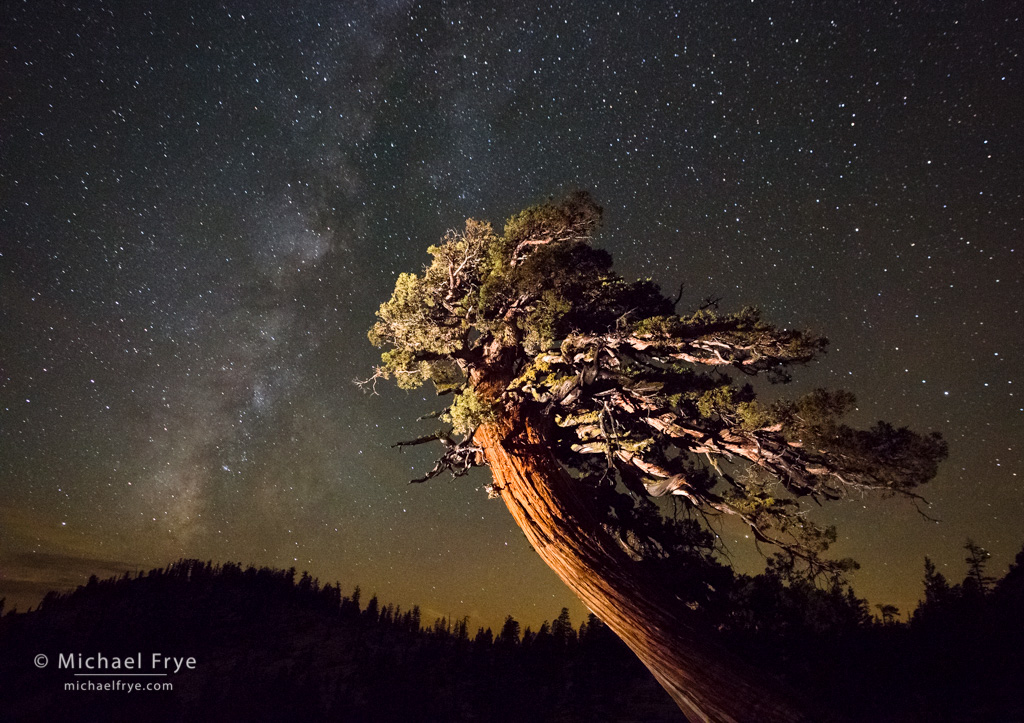 • August 25-27, 2019
• Yosemite high country, eastern Sierra, and Bodie
• Focus: Field and classroom
• Level: Intermediate and Advanced
• Maximum 10 Participants
• Tuition: $1085 (includes the permit fees for Bodie)
• Workshop FAQ
This workshop is full!
Please email us to sign up for the waiting list.

Few sights can match the beauty of a sky full of stars, with the Milky Way stretching from one horizon to the other. During this workshop you'll learn how to capture the magic and mystery of the night skies by combining vivid images of the Milky Way, or swirling star trails, with light-painted trees, rocks, and the ghost town of Bodie in the foreground.
The Yosemite high country, eastern Sierra, and Bodie are perfect places for night photography. The skies are typically clear and dark, and the beautiful trees, rock formations, and picturesque ghost-town buildings provide great subjects for light-painting. The workshop is timed for just before the new moon – the ideal time to photograph the Milky Way and star trails. And we'll be spending one night at Bodie, perhaps the best-preserved ghost town in the country, and a fantasitc place for night photography.
Here are some of the things we'll cover:
– Equipment for nightime photography
– Exposure for stars and star trails
– Focusing and composing in the dark
– Reducing noise during long exposures
– Light-painting techniques
– Planning nighttime photographs
– Using multiple exposures
– Image-stacking for star trails
– Processing nighttime photographs
– Blending image stacks
This promises to be a really fun workshop – I hope you'll join us!
Legal Stuff:
This workshop is conducted by Michael Frye Photography and is operated under special use permit with the Inyo National Forest. In accordance with Federal law and U.S. Department of Agriculture policy, this institution is prohibited from discriminating on the basis of race, color, national origin, sex, age or disability. (Not all prohibited bases apply to all programs.)
To file a complaint of discrimination, write USDA, Director, Office of Civil Rights, Room 326-W, Whitten Building, 1400 Independence Avenue, SW, Washington, D.C. 20250-9410 or call (202) 720-5964 (voice and TDD). USDA is an equal opportunity provider and employer.