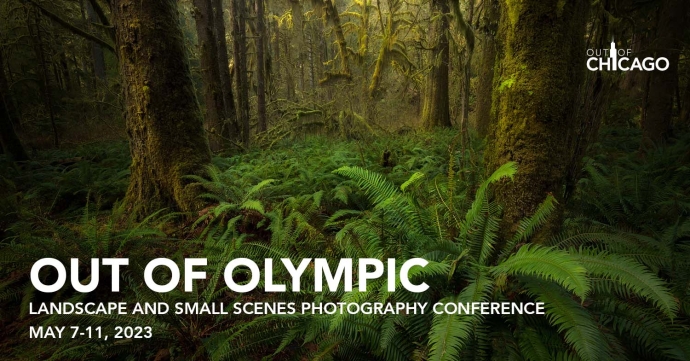 I'm thrilled to be joining the Out of Chicago team once again for a photography conference – this time in Olympic National Park and the Olympic Peninsula. This will be an in-person event taking place next May 7-11, 2023.
I'm looking forward to photographing this beautiful place, with lush, moss-draped rain forests, wild coastal beaches, and rugged sea stacks. And I'll be joining a wonderful cast of instructors: Nick Page, Charlotte Gibb, Sean Bagshaw, Sarah Marino, Anna Morgan, Joseph Rossbach, Kurt Budliger, TJ Thorne, Anna Morgan, Mark Denney, Benjamin Williamson, and Eric Bennett.
The format for this event will be similar to the Out of Death Valley conference I did early this year, with morning and evening small-group field sessions, plus midday discussions, processing tutorials, and portfolio reviews. But this will be a smaller conference, with a maximum of only 60 participants, which should make it an even better experience for everyone. In Death Valley the camaraderie was great, and I really enjoyed just hanging out with all the participants and fellow instructors and talking about photography. I'm sure Out of Olympic will be the same – intense, educational, and lots of fun.
If you'd like to join us in Olympic National Park next May, for a limited time you can get $250 off by using the code 2023OlympicMichael when you register for the conference. This code expires in one week, on Monday, August 29th, so don't wait to use it! You can register for the conference or find more information here:
Out of Olympic, May 7-11, 2023
I hope to see some of you in Olympic National Park next May!
— Michael Frye
Related Posts: Join Me at the Out of Death Valley Conference!; Out of Yosemite Conference
Michael Frye is a professional photographer specializing in landscapes and nature. He is the author or principal photographer of The Photographer's Guide to Yosemite, Yosemite Meditations, Yosemite Meditations for Women, Yosemite Meditations for Adventurers, and Digital Landscape Photography: In the Footsteps of Ansel Adams and the Great Masters. He has also written three eBooks: Light & Land: Landscapes in the Digital Darkroom, Exposure for Outdoor Photography, and Landscapes in Lightroom: The Essential Step-by-Step Guide. Michael has written numerous magazine articles on the art and technique of photography, and his images have been published in over thirty countries around the world. Michael has lived either in or near Yosemite National Park since 1983, currently residing just outside the park in Mariposa, California.