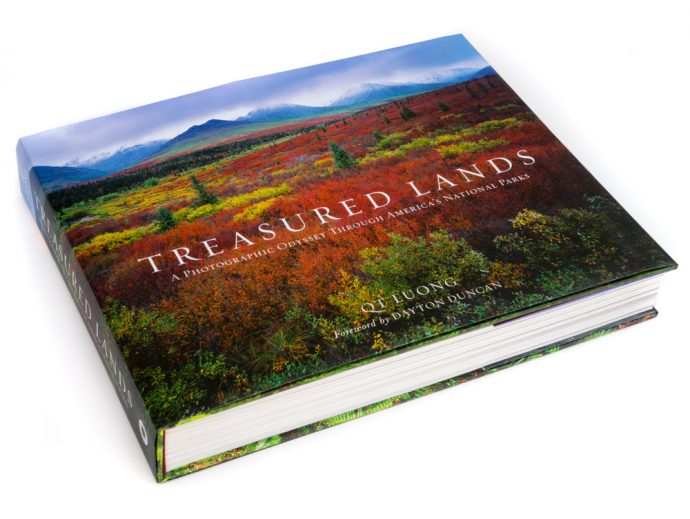 I don't often post reviews here, but QT Luong's Treasured Lands is a book I thought you should know about, and QT is currently having a sale on signed copies.
Treasured Lands is a big, beautiful, coffee-table book with photographs of all 59 U.S. national parks. Just visiting all 59 parks would be quite an achievement, but to make artistic photographs of all these places in different seasons and varying weather conditions is an amazing feat. It's not surprising that it took QT twenty years to accomplish this.
Each park has its own section in the book, and browsing through the pages it was a pleasure to revisit some of the parks I'm familiar with, and also to discover, through the photographs, other parks that I hadn't visited — or even heard of in some cases, like Congaree National Park in South Carolina. (I'll have to go there sometime.)
As I said, this is a big book: 10 by 13 inches, and 456 pages! Large, coffee-table photography books like this are rather rare these days, but if ever there was a subject and project worthy of such treatment it's this one. The list price is $65, but you can find it for less on Amazon. Better yet, get a signed copy for 30% off through tomorrow (November 27th) directly from QT's site by using the discount code THANKSGIVING. And you can get a peek at many of the photographs in the book here.
— Michael Frye
Michael Frye is a professional photographer specializing in landscapes and nature. He is the author or principal photographer of The Photographer's Guide to Yosemite, Yosemite Meditations, Yosemite Meditations for Women, Yosemite Meditations for Adventurers, and Digital Landscape Photography: In the Footsteps of Ansel Adams and the Great Masters. He has also written three eBooks: Light & Land: Landscapes in the Digital Darkroom, Exposure for Outdoor Photography, and Landscapes in Lightroom: The Essential Step-by-Step Guide. Michael has written numerous magazine articles on the art and technique of photography, and his images have been published in over thirty countries around the world. Michael has lived either in or near Yosemite National Park since 1983, currently residing just outside the park in Mariposa, California.