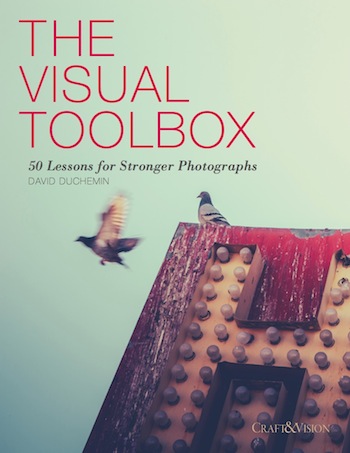 The Visual Toolbox: 50 Lessons for Stronger Photographs
by David duChemin
Craft & Vision; 201 page PDF ebook
Craft & Vision has just released their second "Big Book." This one is called The Visual Toolbox, by C&V founder and publisher David duChemin.
I've said before that I think David is an excellent writer and photography educator. But this time he's outdone himself; The Visual Toolbox is one of the best photography-instruction books I've ever read.
It really is a toolbox, covering almost every aspect of photography, including exposure, depth of field, composition, balance, light, how to slow down and really see, and much more. But what sets this book apart is David's ability to offer fresh perspectives and ideas on familiar photography topics, and get you to think about these subjects in new ways.
For example, everyone talks about leading lines, but just including leading lines in your composition isn't enough: "Is this line leading somewhere? In other words, is there a pay off? If you allow that line there, and you let me follow it, please let it take me somewhere. "
Here he's talking about visual mass, something that's rarely discussed in photography books: "Every element in the frame exerts a certain amount of pull on the eye of the reader. Our eyes (and by that I really mean our brains, our attention) are drawn to some things over other things. Elements that pull the eye are said to have visual weight, or mass. Understanding—and playing with—this is key to almost any further conversation about composition. For example, you can't talk about balance without talking about the relative visual pull of the elements in the frame. Of all the concepts I ever wrapped my mind around in photography, this one has made the greatest difference to me."
And here's another quote about slowing down: "I notice this franticness in students when I travel. There for only a week or two, they're terrified they'll miss out and so they run helter-skelter, hoping they'll see it all. But you can't. Seeing, in photographic terms, is not about what passes before the eyes, but about perception, and we perceive better that which we've really experienced."
David can sometimes get preachy, or wander off into some esoteric philosophical discussion, but in this book he sticks to practical suggestions and ideas, and better yet, he gives readers assignments for each section. Just reading this book will help your photography; if you actually do all the assignments I think your photography will improve dramatically.
In short, I can't recommend the The Visual Toolbox highly enough. As a "Big Book" it's normally $20, but you can get 15% off until September 17th by using the code TOOLBOX on checkout. Or use the code TOOLBOX20 to get 20% off if you purchase five or more Craft & Vision products, including my Exposure for Outdoor Photography ebook.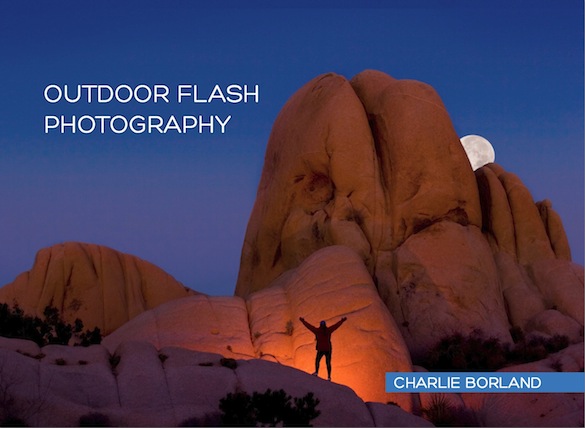 Outdoor Flash Photography
by Charlie Borland
109 page PDF ebook
Switching gears a bit, this is an ebook that's more nuts-and-bolts technical, but in photography a technical breakthrough often precedes a creative one.
That happened to me in the early '90s. At that point in my photography career I had never used flash. Ever. Then, while assisting Moose Peterson in a Montana photography workshop, he gave me one of his old, low-powered flashes and encouraged me to learn how to use it.
And I did. In fact I took that flash and ran with it, experimenting with it in every way I could think of. And it was one of the best things I ever did for my photography. That experimentation led to a period of creative expansion, and to making a series of nighttime photographs using flash and colored gels that became some of my best images. Perhaps more importantly, understanding flash gave me a deeper understanding of how light works, and that understanding of photography's most fundamental element enriched all of my work.
I know that there are a lot of photographers in the same position I was back in the early '90s. They rarely use flash because it seems complicated and foreign. That's why I was excited to see Charlie Borland's new ebook Outdoor Flash Photography. In this book Charlie does a great job of explaining all the complexities of flash in a clear and lucid manner, yet still manages to cover the subject thoroughly. He starts with fundamental flash principles, then explains the often-confusing controls on a typical modern flash, and how the flash and camera work together. He talks about when you might want flash to be the main light, when it's better to use it as fill, how to modify the light, get the flash off camera, use multiple flashes, modify the color, and capture action.
I wish the book was better edited and proofread, but if you can get past that there's a lot of great information to be gleaned from this book. It's $9.95 and available directly through Charlie's site.
And by the way, Charlie is the creator of the Pro Nature Photographer website, which is well worth visiting if you have aspirations to sell your photography.
— Michael Frye
Related Posts: Noteworthy Books; Craft & Vision's "Big Book": Lightroom 4 Unmasked
Michael Frye is a professional photographer specializing in landscapes and nature. He is the author or principal photographer of The Photographer's Guide to Yosemite, Yosemite Meditations, Yosemite Meditations for Women, and Digital Landscape Photography: In the Footsteps of Ansel Adams and the Great Masters. He has also written three eBooks: Light & Land: Landscapes in the Digital Darkroom, Exposure for Outdoor Photography, and Landscapes in Lightroom 5: The Essential Step-by-Step Guide. Michael written numerous magazine articles on the art and technique of photography, and his images have been published in over thirty countries around the world. Michael has lived either in or near Yosemite National Park since 1983, currently residing just outside the park in Mariposa, California.
Did you like this article? Click here to subscribe to this blog and get every new post delivered right to your inbox!