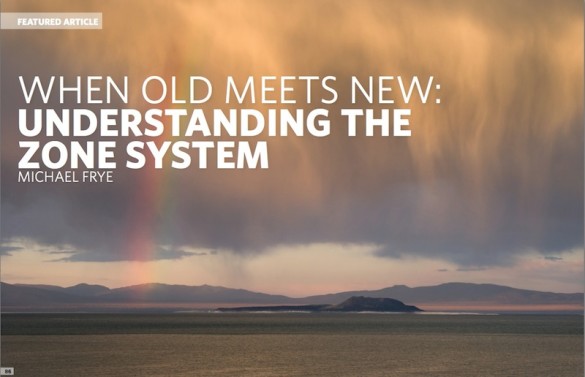 The summer issue of Photograph, Craft & Vision's quarterly magazine, just came out today, and it includes a new article I wrote called "When Old Meets New: Understanding the Zone System."
Digital Photography today gives us tremendous control over image contrast, but even with all this control, we're still missing the answers to some basic questions: What is my camera's real dynamic range? Will this scene fit within that range? If so, how do I determine the right exposure? When do I need to bracket exposures and use HDR?
Luckily, the Zone System give us a framework for answering these questions. I've written about the Zone System before, but in this new article I dive even further into how the Zone System relates to digital photography, and how it can answer those questions about image contrast. I include instructions for how you can test your camera's true, usable dynamic range, how you can use this knowledge to make better exposures in the field, and how you can apply the Zone System to the digital darkroom.
There are eleven articles in the magazine altogether, plus three beautiful portfolios. My favorite articles include Younes Bounhar's "Working With What You've Got," about taking advantage of bad weather. This is not a new theme, but Younes makes a strong case with his images and words: "I can assure you that my best sellers – be it in print or image licensing – are almost exclusively made in bad weather."
Another favorite is the always-interesting David duChemin's "Learning to See." David says, "How, then, do we learn to see? I've read plenty to suggest we can't learn this at all, that you either have an artistic eye or you do not. I don't buy it." And I don't buy it either. Anyone can learn to see better, and communicate more clearly through their photographs. I've found this out over and over during workshops.
The latest issue of Photograph magazine is $8, or you can buy four issues for $24. Either way it's a bargain, as the magazine is beautifully designed, and filled with lots of inspiring photography and practical advice. You can see the complete Table of Contents below.
— Michael Frye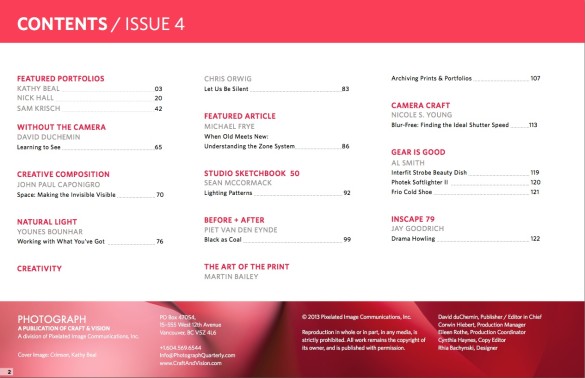 Michael Frye is a professional photographer specializing in landscapes and nature. He is the author or principal photographer of The Photographer's Guide to Yosemite, Yosemite Meditations, Yosemite Meditations for Women, and Digital Landscape Photography: In the Footsteps of Ansel Adams and the Great Masters. He has also written three eBooks: Light & Land: Landscapes in the Digital Darkroom, Exposure for Outdoor Photography, and Landscapes in Lightroom 5: The Essential Step-by-Step Guide. Michael written numerous magazine articles on the art and technique of photography, and his images have been published in over thirty countries around the world. Michael has lived either in or near Yosemite National Park since 1983, currently residing just outside the park in Mariposa, California.