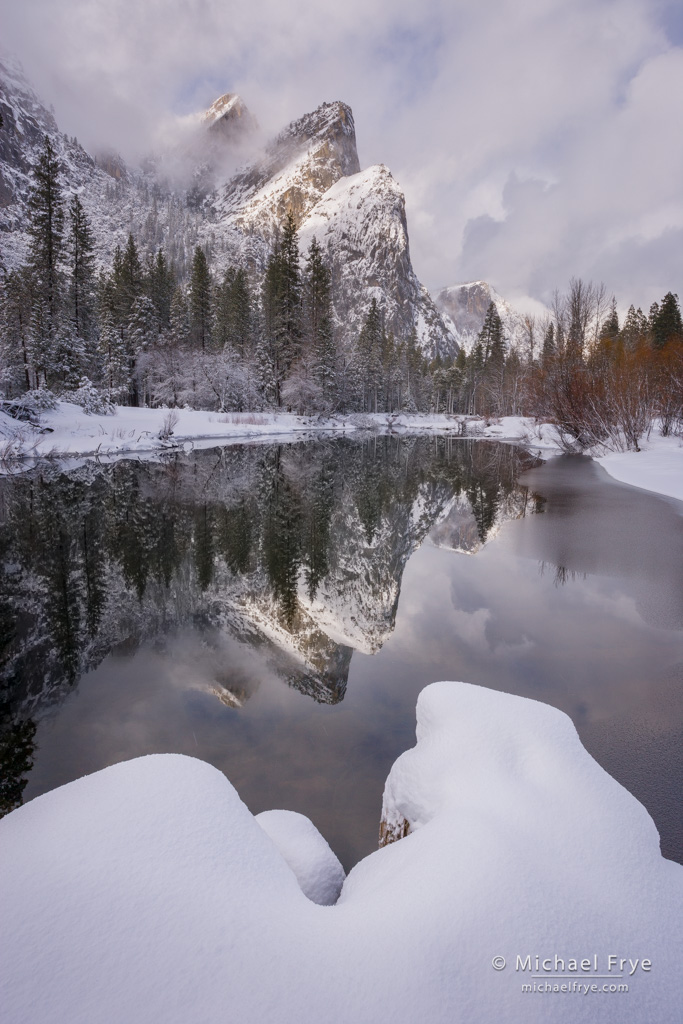 A snowy scene from 2008
A storm dumped three feet of snow in Yosemite Valley on Sunday and Monday, knocking down trees and power lines, and closing all roads into the park. Due to lack of electricity and water in Yosemite Valley, the park service evacuated all visitors and non-essential employees. The park won't reopen until power is restored, which may not be until this weekend, or possibly later. The main electrical line into the park was cut by a rock slide that knocked over an electrical tower, and replacing the tower requires bringing in crews and equipment by helicopter.
More rain and snow are falling in the park today, another storm is expected to arrive tomorrow, and one more on Saturday. These additional weather systems may hamper efforts to clear roads and restore electricity.
Power is still out in many foothill communities outside the park, especially around Oakhurst. We lost electricity at our home in Mariposa for about eight hours on Monday, but this was a small problem compared to what some of our neighbors are dealing with. My mom, who lives outside of Oakhurst, is still without power, so she'd taken refuge with us.
Here's a link to one story and video about this event, and here's another, both from Fresno's ABC30 web site. If any of you find links to other good information, please post them in the comments. If you're planning to head to Yosemite, call 209-372-0200 for the latest road information.
A friend who lives in Yosemite West, at about 6000 feet, said they got five feet of snow from the last storm. Another friend and workshop assistant of mine, Hugh Sakols, was staying in the Ostrander ski hut, at over 8000 feet in elevation, and about 10 miles from the nearest plowed road at the Badger Pass ski area. He and a group of about 20 others left the hut at 10 a.m. on Sunday, and took turns breaking trail with their skis through deep, heavy snow in near white-out conditions. They made it out to the snow-covered Glacier Point Road, where they met other parties who were trying to get back to Badger Pass, but had stopped and set up tents because they couldn't push through the deep snow anymore. The combined trail-breaking efforts of the group eventually brought them all back to Badger Pass, where they spent the night at the lodge before being led out in a convoy the next day.
In the long view, the heavy snow pack will lead to roaring waterfalls later this spring and into summer. In California, yearly rainfall is measured from July 1st to June 30th. The average yearly precipitation for Yosemite Valley is 36.1 inches. So far, since last July 1st, the valley has received over 47 inches. This upcoming series of storms could put the total over 50 inches. By comparison, last winter, a wet El Niño year, brought a total of 41.59 inches by June 30th, and on this date, March 23rd, the amount was 31.45 inches. This is supposed to be a drier La Niña year, but it's already brought more rain and snow than last year's total.
It's likely that Tioga Pass won't open until June, possibly not even until late June. In 2005 Tioga Pass didn't open until June 24th. That year the total precipitation was 53.47 inches, and we're on track to surpass that this year.
The last storm also dumped heavy rain on many of the best wildflower spots in Southern California. It may be too late to help some of the earlier-blooming locations, but might be great for the later-blooming spots like Gorman and Antelope Valley.
It's been quite a winter! It'll be interesting to see what the rest of the spring holds.