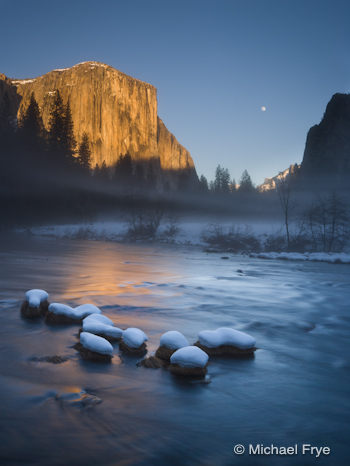 The moon rising between El Capitan and Cathedral Rocks from Valley View
Clear skies have allowed my workshop students and me to photograph the rising moon on three successive days: over Half Dome on Sunday, between El Capitan and Cathedral Rocks on Monday, and between Half Dome and El Capitan from Tunnel View yesterday. Naturally the timing for this workshop (Photoshop and Digital Printing, with The Ansel Adams Gallery) was planned to take advantage of these lunar opportunities, but you never know what kind of weather you'll get, so we've been lucky.
Where November and December were exceptionally wet, January has been dry so far. Yosemite photographers often hope for precipitation and the opportunity to photograph a clearing storm, but every set of conditions creates unique opportunities. The clear, warm weather is melting the abundant snow pack and producing an exceptionally high flow in Yosemite Falls. It looks more like March than January. The light, however, is still at its winter angles, striking the falls shortly after sunrise—much better than in March, when the sun doesn't reach the waterfall until it's high in the sky.
With more clear, warm weather in the forecast, the water flow should stay high or even increase, and we could have great opportunities to photograph Yosemite Falls for several weeks.
If you had a chance to photograph the rising moon the last few days, or the high water in Yosemite Falls this winter, I'd love to see the images, so please post a link in the comments.