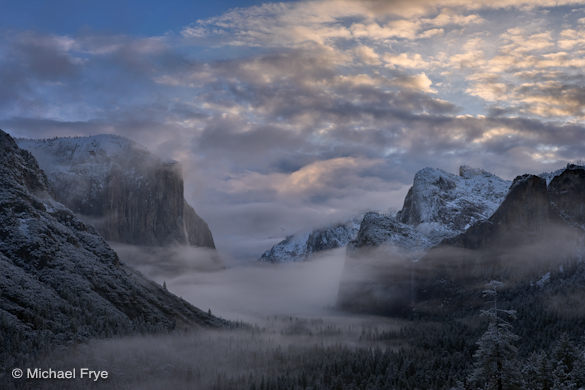 Winter sunrise from Tunnel View, February 7th, 2010
Update, Friday, January 7th:
This afternoon I counted the votes and listed the top ten images in another post. I still welcome hearing about your picks—they just won't count toward picking the top ten. Thanks for your participation everyone!
As I mentioned in my last entry, Dan Mitchell had a great idea: he posted about 50 of his best photographs from 2010, and asked his blog readers to help him pick out the best ones. Dan has some beautiful work, and you can see the final results here.
I liked this idea so much I thought I would, uh, borrow it—with Dan's permission of course. So I've set up a page with 46 of my best images from 2010, and I'm asking for help in picking out the top ten. After you look through them you can post a comment with your favorites. Once I've narrowed it down I'll post the top ten on this blog, and submit the finalists to Jim Goldstein's blog project, where once again he'll be showcasing the ten best images of the year from over 100 photographers.
The judging for the my final ten will be more like Dancing With the Stars than America Idol. That means that unlike Idol, where only the viewer's votes count, the judge—me—gets a say too, so if one of my favorites gets panned by everyone else I may still include it. But as one of my photographer friends, Clinton Smith, once said, we don't get to pick our best images—the world does. So your votes will carry a lot of weight.
So have at it! And thanks for your participation—I really appreciate your taking the time to give me your thoughts about these photographs. Here's the link to those 46 images again.