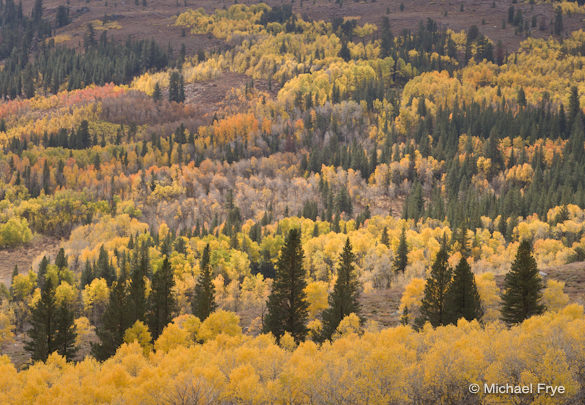 Claudia and I made it over Tioga Pass on Sunday, and spent the last two days around Lee Vining photographing aspens. It rained off and on, so we had to wait out a few showers, but the moisture intensified the colors, and gave us some interesting clouds and weather to photograph. I made hundreds of exposures, drained two robust batteries in one day, and got thoroughly soaked, but we had a great time—it was just beautiful. I have a lot of images to process, but here are a couple of early favorites.
A lot has changed in the last week, and autumn has finally bloomed in the eastside canyons. Some of the middle and upper elevation areas are at peak, and the lower groves around June Lake and Lee Vining Canyon are getting there. We found some beautiful orange aspens along the Virginia Lakes Road, just above Conway Summit. The Dunderberg Meadow area was gorgeous. Of course the spots that are good now will probably be past peak soon, but I expect June Lake, Lee Vining Canyon, and Lundy Canyon will all be beautiful this weekend.
As for Yosemite Valley, I've heard that the color has really started to come out recently, and I'll be up there the next two days to check first hand.
I have a busy workshop upcoming workshop schedule, and of course I have to get out and photograph the fall color! So I won't be doing a critique this week, but will post one early next week. Stay tuned—and let us know about autumn color that you find.