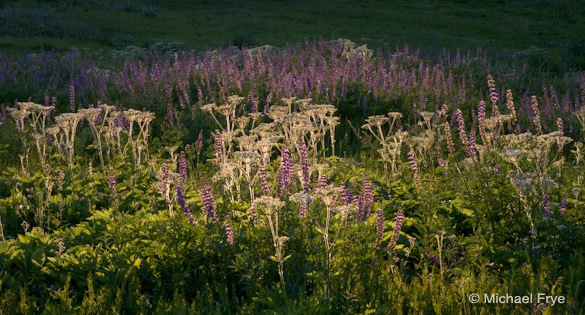 Lupine and cow parsnip near the Glacier Point Road last Sunday
As expected, the wildflowers are nearing their peak in the higher elevations of Yosemite. They're not really late; this is typical timing after a heavy winter. A fleeting, beautiful period of time has begun.
Summit Meadow, right along the Glacier Point Road, is a damp, boggy place. As the meadow slowly dries out over the summer, the shooting stars that dominated the early-season landscape give way to corn lilies, sneezeweed and lupine. There should be a nice mix of flowers there by this weekend. There are also many other small meadows and clearings near this road with flowers—you just have to look. It might also be worth a short hike to McGurk or Westfall meadows. A couple of years ago Claudia and I arranged a car shuttle and hiked from Taft Point to the McGurk Meadow trailhead, and found lots of great flowers along the way.
Speaking of Claudia, there's a photo of her below near Crane Flat, standing next to the tallest corn lily I've ever seen. Ten feet tall? It's a good year for corn lilies. In some summers a cold snap kills them before they bloom, but while we had a late spring, the temperatures have been moderate since early June, and corn lily blossoms are abundant right now. Some are already spent at Crane Flat, at only 6000 feet in elevation, but at 7000 feet and higher they should still be going strong for another week or so.
Other flowers, however, are still blooming at Crane Flat. Last Thursday the sneezeweed, coneflowers, and lupine were abundant, and other blossoms like yampah and goldenrod were about to bloom in big numbers.
I haven't been to Tuolumne Meadows recently, but Claudia has, and says the wildflower display is typical of recent years—scattered blooms, but no thick carpets of flowers. However she found more color in other places, like along the trail to Mono Pass. It's likely that other spots near Tioga Pass have good displays as well.
Please be careful when photographing wildflowers, and try not to trample them in your efforts to find the perfect composition. We want them to bloom next year too!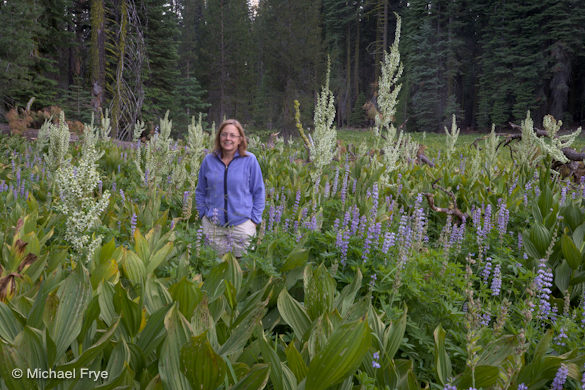 Claudia next to the tallest corn lily I've ever seen