Exploring the Oregon Coast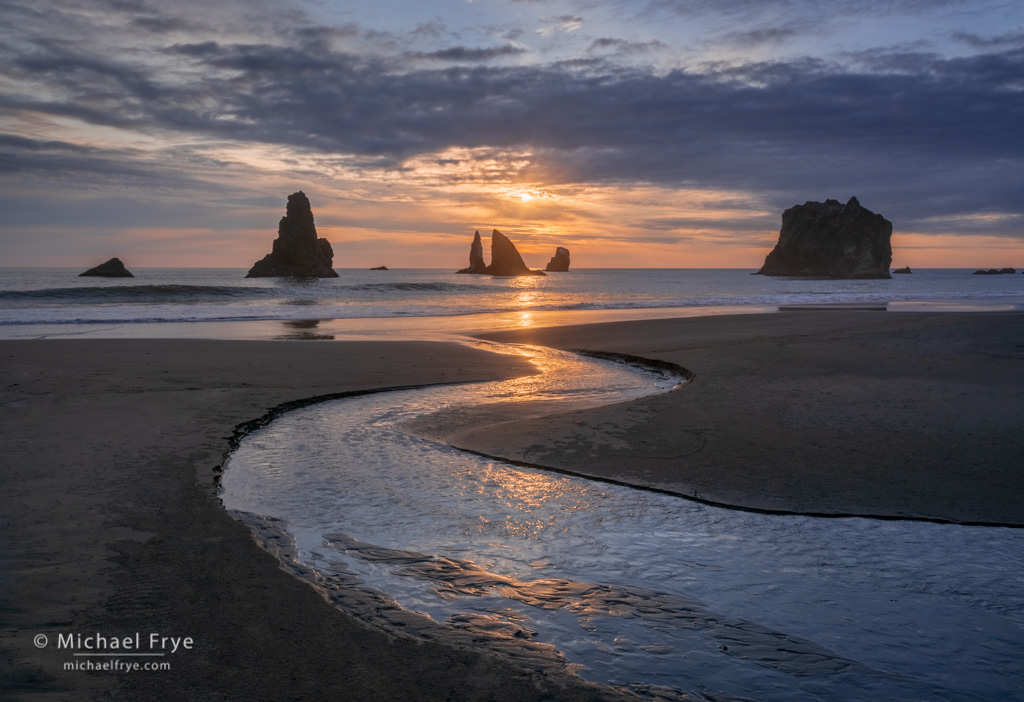 • Instructor: Michael Frye
• November 7-11, 2023 (five days)
• Southern Oregon Coast
• Focus: Field and Classroom
• Level: Intermediate and Advanced
• Maximum 6 Participants
• Tuition: $3150; includes lodging for six nights
•
Workshop FAQ
This workshop is full!
Please email us to sign up for the waiting list.

The Oregon coast provides wonderful opportunities to photograph a variety of coastal scenes, including beaches, sea stacks, arches, sandstone rock formations, and tide pools.
In this workshop we'll focus on trying to capture the mood of these rugged landscapes, and help you tap into your creativity, your eye for composition, and your visual imagination. You'll learn how to identify and isolate the most essential elements of a scene, and apply fundamental concepts like balance and repetition. We'll also get creative with long exposures of waves and ocean scenes in order to add an ethereal mood to the images.
This workshop will concentrate on the southern Oregon coast, including the famous Bandon sea stacks, and Samuel H. Boardman Scenic Corridor. It should be a lot of fun, so I hope you'll join us!
More details about this workshop…
Advanced Composition and Storytelling: An Online Workshop
January 7-8, 2023
(Completed)
Winter Speaker Series for Nature Photography Classes
January 16, 2023
Advanced Composition and Storytelling: An Online Workshop
January 21-22, 2023
(Completed)
Advanced Composition and Storytelling: An Online Workshop
January 28-29, 2023
(Completed)
Death Valley Under the Stars
April 17-20, 2023
(Completed)
NANPA Summit Keynote Presentation, "The Art of Nature Photography"
May 4-6, 2023 (my keynote will be on May 4th)
Out of Olympic Photography Conference
May 7-11, 2023
The Mystic Forest: Redwoods Along the Northern California Coast
May 29 - June 2, 2023
(Completed)
Advanced Composition and Storytelling: An Online Workshop
June 10-11, 2023
(Completed)
Starry Skies Adventure: Yosemite and the Eastern Sierra
June 19-22, 2023
(Completed)
The Range of Light: Yosemite and the High Sierra
July 10-14, 2023
(Completed)
Advanced Composition and Storytelling: An Online Workshop
August 5-6, 2023
(Waitlist)
Advanced Composition and Storytelling: An Online Workshop
September 23-24, 2023
(Waitlist)
Olympic Peninsula (through Visionary Wild, with co-leader Jerry Dodrill)
October 9-13, 2023
(Waitlist)
Exploring the Oregon Coast
November 7-11, 2023
(Waitlist)
Advanced Composition and Storytelling: An Online Workshop
December 2-3, 2023
(Waitlist)
Yosemite in Winter
December 11-15, 2023
(Waitlist)
Death Valley (through Visionary Wild, with co-leader Jerry Dodrill)
March 4-8, 2024
(Waitlist)
Grand Canyon by Raft (through Visionary Wild, with co-leader Jerry Dodrill)
May 2-13, 2024
(Waitlist)
The Mystic Forest: Redwoods Along the Northern California Coast
June 2-6, 2024
(Waitlist)
Starry Skies Adventure: Yosemite and the Eastern Sierra
June 30 - July 3, 2024
(Waitlist)
The Range of Light: Yosemite and the High Sierra
July 15-19, 2024
(Waitlist)