Death Valley under the Stars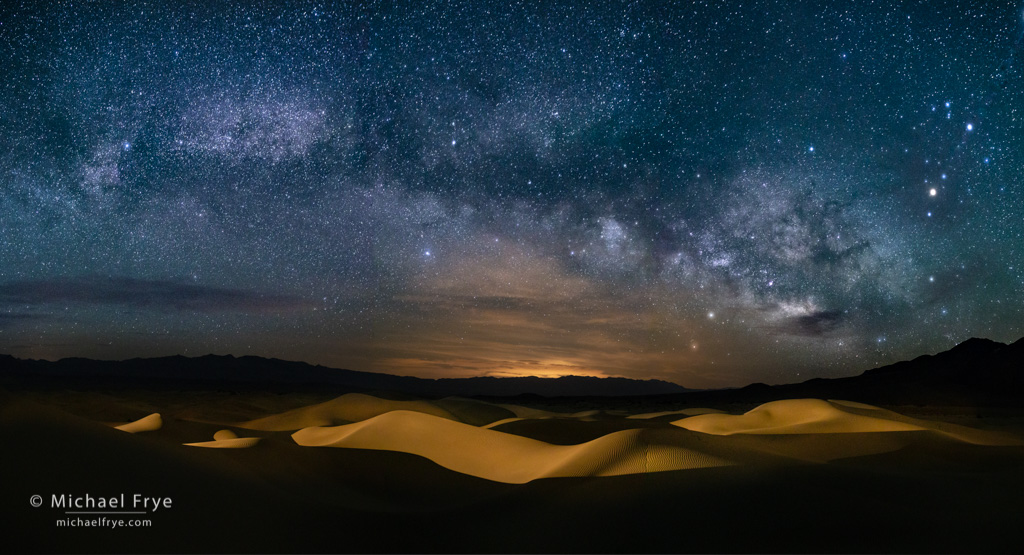 • Instructor: Michael Frye
• April 17-20, 2023 (four nights)
• Death Valley National Park, California
• Focus: Night Photography, field and classroom.
• Level: Intermediate and Advanced
• Maximum 8 Participants
• Tuition: $1585
• Workshop FAQ
This workshop is full!
Please email us to sign up for the waiting list.

We're going back to Death Valley at night! The sculpted sand dunes and eroded badlands of this national park are wonderful places for night photography, and perfect complements to a sky filled with the Milky Way, or swirling star trails.
During this workshop you'll learn light-painting techniques that will allow you to combine these landforms with the night sky to create striking images that capture the magic and mystery of the desert after dark. We'll also cover, in detail, all of the techniques needed to photograph nighttime landscapes, including exposure, focusing in the dark, and image processing.
The workshop is timed for the new moon, so we'll have dark skies full of stars. Death Valley was named an International Dark Sky Park, and there's very little air traffic in this area, making it easier to capture star-trail photographs without jet trails.
Here are some of the things we'll cover during the workshop:
• Exposure
• Reading Histograms
• Composition
• Equipment for nightime photography
• Camera settings for stars and star trails
• Focusing in the dark
• Reducing noise during long exposures
• Light-painting techniques
• Planning nighttime photographs
• Using multiple exposures for light painting
• Star-stacking to reduce noise
• Image-stacking for star trails
• Processing nighttime photographs
• Blending star stacks and star trails
This promises to be a really fun workshop – I hope you'll join us!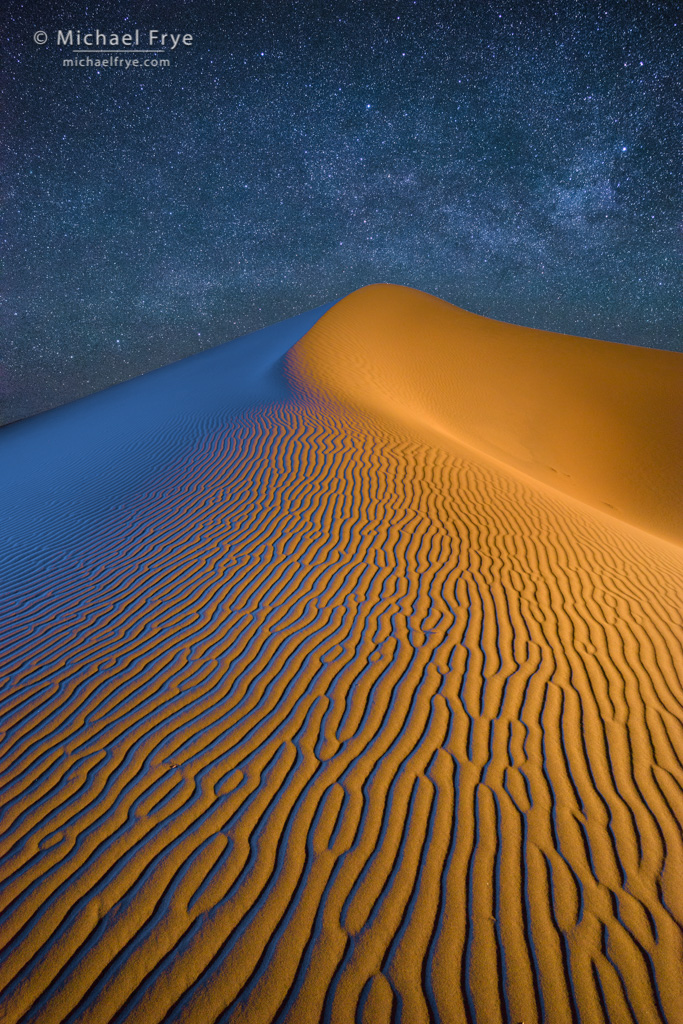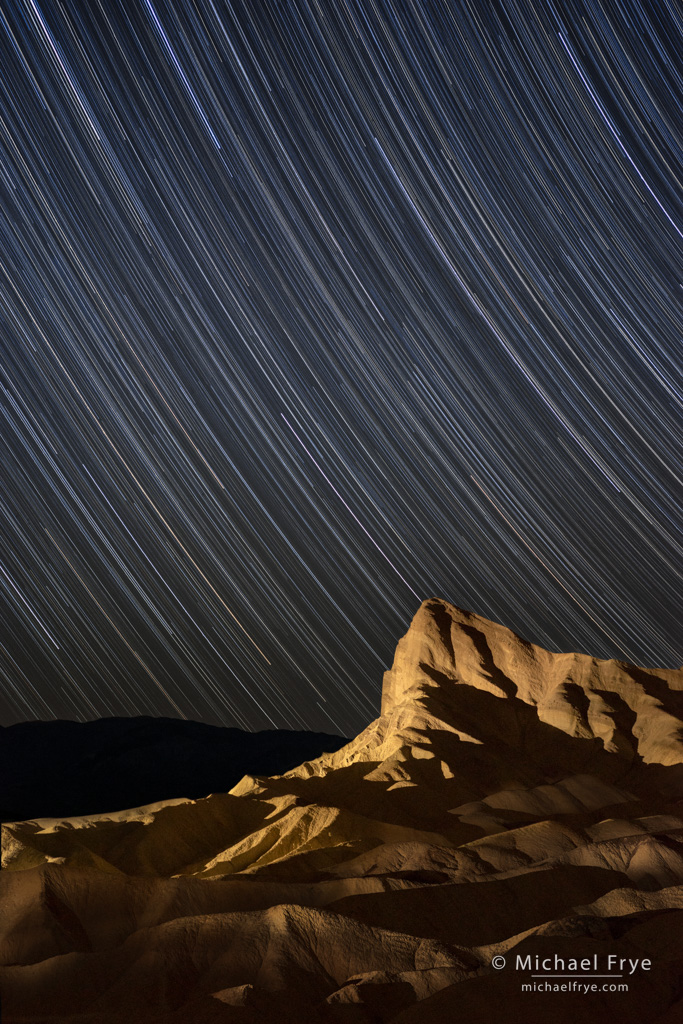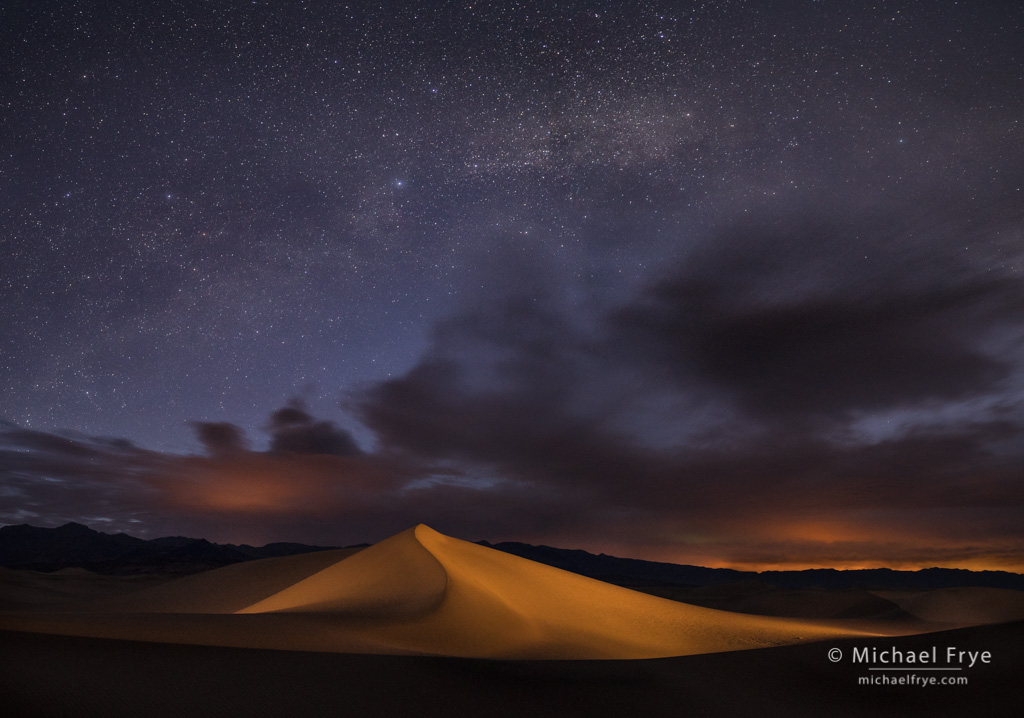 Advanced Composition and Storytelling: An Online Workshop
January 7-8, 2023
(Completed)
Winter Speaker Series for Nature Photography Classes
January 16, 2023
Advanced Composition and Storytelling: An Online Workshop
January 21-22, 2023
(Completed)
Advanced Composition and Storytelling: An Online Workshop
January 28-29, 2023
(Completed)
Death Valley Under the Stars
April 17-20, 2023
(Completed)
NANPA Summit Keynote Presentation, "The Art of Nature Photography"
May 4-6, 2023 (my keynote will be on May 4th)
Out of Olympic Photography Conference
May 7-11, 2023
The Mystic Forest: Redwoods Along the Northern California Coast
May 29 - June 2, 2023
(Completed)
Advanced Composition and Storytelling: An Online Workshop
June 10-11, 2023
(Completed)
Starry Skies Adventure: Yosemite and the Eastern Sierra
June 19-22, 2023
(Completed)
The Range of Light: Yosemite and the High Sierra
July 10-14, 2023
(Completed)
Advanced Composition and Storytelling: An Online Workshop
August 5-6, 2023
(Waitlist)
Advanced Composition and Storytelling: An Online Workshop
September 23-24, 2023
(Waitlist)
Olympic Peninsula (through Visionary Wild, with co-leader Jerry Dodrill)
October 9-13, 2023
(Waitlist)
Exploring the Oregon Coast
November 7-11, 2023
(Waitlist)
Advanced Composition and Storytelling: An Online Workshop
December 2-3, 2023
(Waitlist)
Yosemite in Winter
December 11-15, 2023
(Waitlist)
Death Valley (through Visionary Wild, with co-leader Jerry Dodrill)
March 4-8, 2024
(Waitlist)
Grand Canyon by Raft (through Visionary Wild, with co-leader Jerry Dodrill)
May 2-13, 2024
(Waitlist)
The Mystic Forest: Redwoods Along the Northern California Coast
June 2-6, 2024
(Waitlist)
Starry Skies Adventure: Yosemite and the Eastern Sierra
June 30 - July 3, 2024
(Waitlist)
The Range of Light: Yosemite and the High Sierra
July 15-19, 2024
(Waitlist)