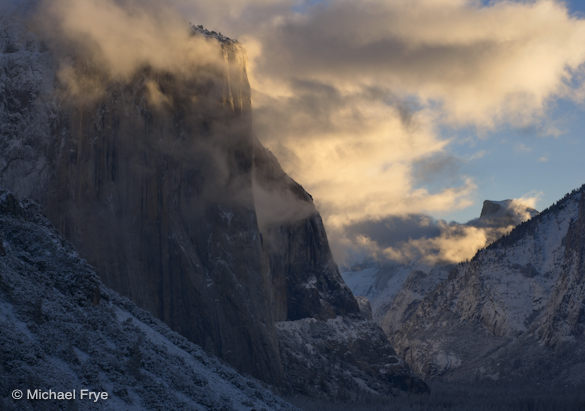 Half Dome and El Capitan, sunrise
I can't remember seeing so much snow in November. Saturday brought another storm, and six inches of new snow to the valley floor. I went out in the blizzard Saturday afternoon to photograph snowy trees (my wife Claudia posted a photo of me in the Ahwahnee Meadow on my Facebook page). The storm cleared during the night, and Sunday was another one of those great Yosemite days—a beautiful sunrise, and fresh snow everywhere. The photo above was made from Tunnel View shortly after sunrise, and I've included a couple of other photos from the day below. As you can see in the last image, there is still, amazingly, some fall color in spots.
Curiously there were few other photographers in the valley. Only two other people captured the sunrise from Tunnel View—locals Evan Russell and Walter Flint. I spotted a few tripods later in the day, but was surprised there weren't more, especially with such great conditions on a holiday weekend. Maybe no one could get reservations near the park. Or, perhaps perhaps people were actually spending time with their families instead of devoting every spare moment to photography. Imagine that! Well, with luck we'll get many more photogenic storms this winter.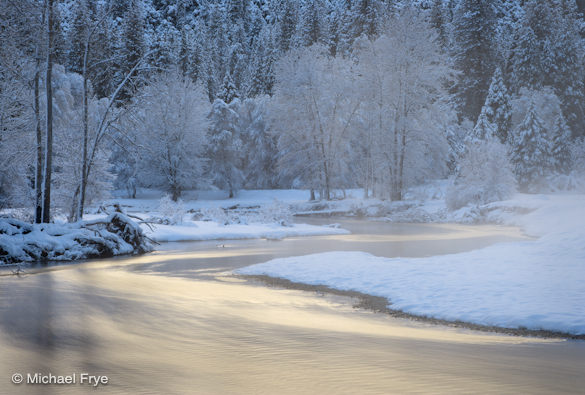 Golden reflections in the Merced River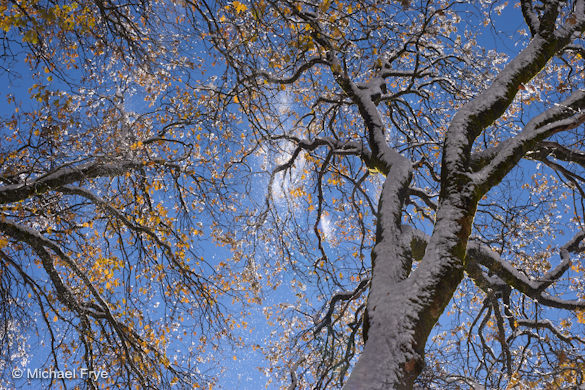 Snow falling from oaks, Ahwahnee Meadow