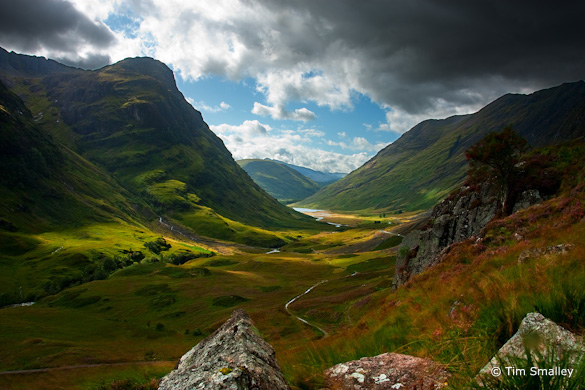 "Glen Coe" by Tim Smalley
This week's photograph was made by Tim Smalley near Kinlochleven, Scotland. By having his image chosen for this critique Tim will receive a free 16×20 matted print from Aspen Creek Photo. If you'd like your images considered for future critiques you can upload them to the Flickr group I created for this purpose.
The first thing that grabbed me about this photograph is the wonderful light. The dappled sunshine, rich colors, and strong contrast create a powerful mood. It looks like a scene from Lord of the Rings; I could imagine winged Nazgûl swooping down over the valley.
Tim said that "There was a certain emotion that I wanted to express" about Glen Coe. "The weather is often quite mixed . . . and there can be some phenomenal light, even during the day as the sun breaks through parting clouds." (more…)