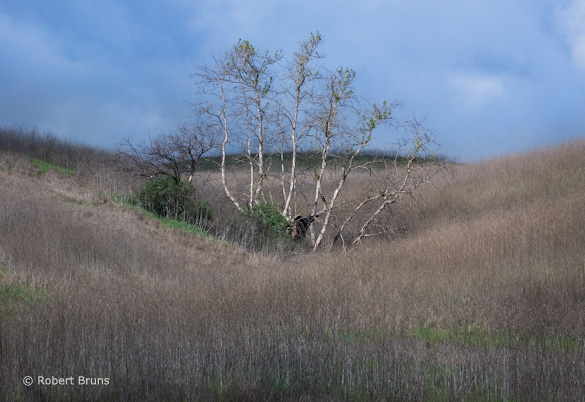 "Chino Hills SP 1" by Robert Bruns
This week's photograph was made by Robert Bruns in Chino Hills State Park, California. What initially attracted me to this image was its strong composition. It's simple and clean, with a prominent focal point—the central trees. It's full of diagonal lines and triangles: a large, long triangle in the lower-right corner, another in the middle left, a small one behind the trees, more within the trees themselves, and subtle triangles in the negative space of the sky in the upper-left and upper-right corners. It's very well seen.
I could go on here about another successful violation of the rule of thirds, but I'll just refer you to previous critiques here and here.
Last week I discussed the conflict that photographers often face between finding a strong composition and conveying a sense of place. Robert managed to walk that line pretty well here—the design is exemplary, and we get a feeling for the kind of area this is, with its dry, grassy hills. Robert said that this area had burned the previous year, and "It was nice to see it coming back to life."
Technically this is well executed—the exposure looks perfect, and everything appears to be in focus. The white balance looks neutral, but I might prefer something a bit warmer. More contrast would also liven up the image a bit. Here's a modified version with both warmer color balance and added contrast, plus lightened a bit overall: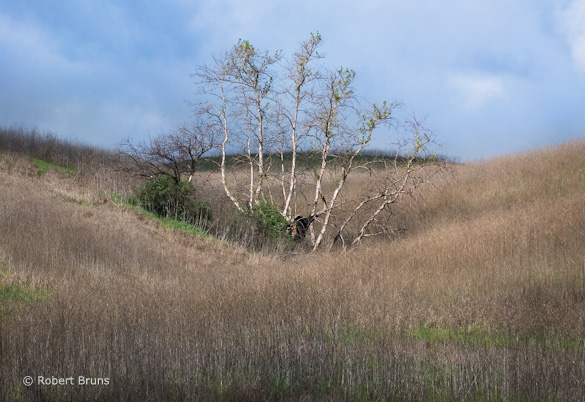 Lightened version with warmer color balance and more contrast
Despite the strong composition, and the changes I made, this image still seems to be missing something. I enjoy contemplating the design, but it's not the kind of photograph that makes you stand up and say "Wow!" Yet it's hard to find ways to improve it. One issue is the subject. A strong design can sometimes overcome an ordinary subject, and nearly did here, but not enough to completely captivate me. The other problem is the light—it's rather bland. Some warm, low-angle sunlight would be perfect. I think low frontlight would be best, but sidelight or backlight might also work.
Of course you can't always catch perfect light, but I suspect that Robert lives close to this spot, since not many out-of-state visitors put Chino Hills on their itinerary. And while Chino Hills may not be Yosemite, any natural place—heck any place, period—has its charms. And proximity is a great advantage—you can return repeatedly, learn where some of the best locations and subjects are, get to know the weather patterns, and plan to come back to certain spots when the light and weather are right.
I think we all make better photographs of places and subjects that we know well, and that we're passionate about. Sometimes I hear people say that it's easy to take good pictures in Yosemite: "Just point the camera anywhere." But if you've tried to make good photographs of this park you know how untrue that statement is. It can be very difficult to convey the beauty and grandeur of such a place in a photograph. If I've had any success at it, it's because I know Yosemite well, and I'm passionate about it.
The New Jersey shore might seem like a far cry from Yosemite. But one of my online students last year showed many beautiful images of that coastline. They had great color, and a wonderful feeling of space and light. He knew the area well, loved it, and it showed.
Another student once showed me a portfolio of landscape photographs. They seemed rather ordinary. Then, almost as an afterthought, he showed photographs of his kids—and they were great. This was clearly a subject that he was passionate about.
So photograph places and subjects that you know and love. Your passion and knowledge will make the mundane seem magical. And it helps if you can work close to home, and visit your subjects again and again.
Thanks Robert for sharing your image! You can see more of his work on Flickr.
I'll be taking next week off to teach a workshop, but will post another critique on May 11th or 12th.
As part of being chosen for this week's critique Robert will receive a free 16×20 matted print courtesy of the folks at Aspen Creek Photo. If you'd like your images considered for future critiques, just upload them to the Flickr group I created for this purpose. If you're not a Flickr member yet, joining is free and easy. You'll have to read and accept the rules for the group before adding images, and please, no more than five photos per person per week. I'll be posting the next critique on May 11th or 12th. Thanks for participating!